EghtesadOnline: OPEC's first assessment of world markets in 2018 showed that, despite cutting output, the group is still pumping too much crude.
Even though the Organization of Petroleum Exporting Countries delivered on pledges to reduce supply, its output exceeded demand in the first half of this year, according to a report from the group. Its production was 32.6 million barrels a day in June. With U.S. oil producers leading a pick-up in rival supply, that's also higher than the 32.2 million a day OPEC expects will be needed in 2018, according to Bloomberg.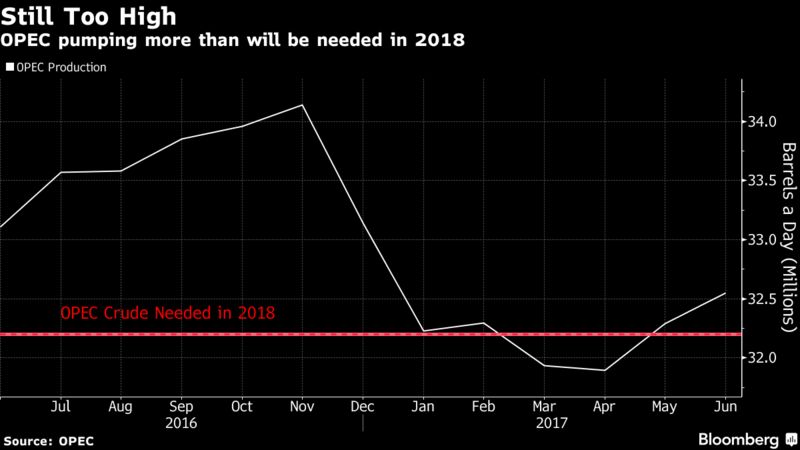 Oil prices have slumped into a bear market on concern that production cuts implemented by OPEC and Russia since the start of the year aren't deep enough to clear a global glut, while U.S. shale-oil producers are gearing up to fill in any shortfall. Producers will meet later this month in St. Petersburg to review their progress, although deeper cuts aren't on the agenda.
The report from OPEC's Vienna-based research department indicates that the accord didn't go far enough, which could go some way to explain the lack of a sustainable price rally following the cuts. Despite delivering on its commitment to reduce output, the organization was still oversupplying world markets by about 700,000 barrels a day in the first half of this year, its data show.
Deeper Cuts
Still, the report also contained evidence that the cutbacks are having some effect. Oil stockpiles in developed nations fell in May, reducing their surplus over the five-year average to 234 million barrels. By keeping producing at June levels, the organization would reduce the global surplus by about 70 million barrels in the second half, falling short of the group's goal of eliminating the excess, according to Bloomberg calculations using OPEC data.
While the organization and its partners have agreed to persevere with their cuts until the end of March, figures in the report suggest they would need to make deeper reductions to balance the market in 2018. If current output were sustained, OPEC will oversupply world markets by about 900,000 barrels a day in the first quarter of next year.
Growth in global oil consumption will be stable next year, at 1.26 million barrels a day, or 1.3 percent. However, the increase in supplies from outside OPEC will accelerate, to 1.1 million barrels a day, or about 2 percent, with most of the expansion coming from the U.S.
OPEC's outlook is more pessimistic than that of the International Energy Agency, the Paris-based institution that advises most of the world's major economies. Last month the IEA predicted that global oil demand will pick up next year to 1.4 million barrels a day, allowing OPEC to reverse some of the cuts it has made and still keep markets balanced.
OPEC's production climbed by 393,500 barrels a day to 32.6 million in June as Libya and Nigeria -- both exempt from the agreement to cut -- restored output lost to political unrest and conflict, according to external sources compiled by the organization. Iraq, which has lagged behind other members in implementing its cutbacks, also increased output.
Saudi Arabia, the group's largest producer that implemented the biggest cut, told OPEC it pumped 10.07 million barrels a day last month, exceeding its cap for the first time.