EghtesadOnline: The U.S. dollar weakened against its G-10 peers and stocks in Asia were mixed as attention turned to central bank policy after markets were rattled by reports of Donald Trump Jr.'s contact with a Russian lawyer.
According to Bloomberg, the yen strengthened a second day and shares in Tokyo and Sydney declined, while those in Hong Kong rose. U.S. equity futures were slightly lower after the S&P 500 Index recovered from a sudden loss to end Tuesday flat. A gauge of the dollar weakened for a third day. Oil bounced on reports of a decline in stockpiles, and gold was higher. Treasuries and Australian bonds rose.
Investors are awaiting testimony from Federal Reserve Chair Janet Yellen and the start of corporate earnings season after markets were jolted Tuesday. The catalyst was the release of emails by the president's son that said the Russian government backed his father's presidential campaign and was trying to damage Hillary Clinton.
Fed Governor Lael Brainard said the U.S. central bank should move cautiously on rate hikes, and signaled she's comfortable with plans to start shrinking the balance sheet soon. The Bank of Canada is expected to hike interest rates Wednesday, a chance to mark a concrete step in a tightening cycle that many of the developed world's central bankers have been preparing investors for.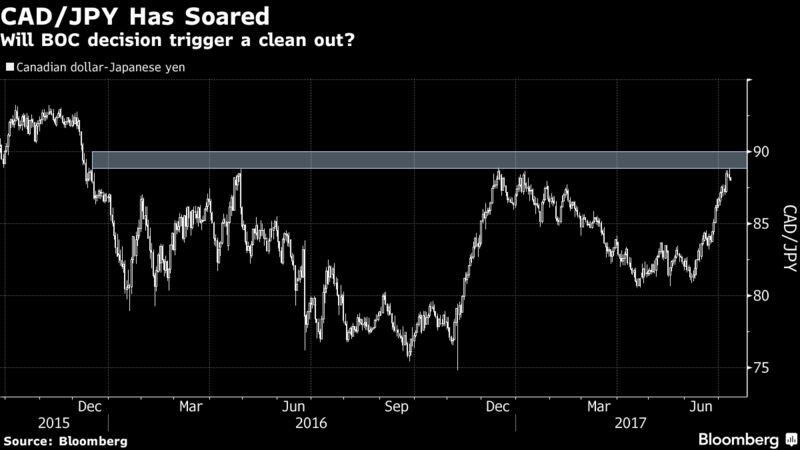 Here's what investors are watching:
Yellen gives testimony Wednesday and Thursday, with investors looking for guidance on when the Fed could start reducing its balance sheet.
JPMorgan Chase & Co., Citigroup Inc. and Wells Fargo & Co. report results this week.
The U.K. is due to publish its Repeal Bill on EU membership this week.
These are the main moves in markets:
Currencies
The yen rose 0.5 percent, the most in a week, to 113.36 per dollar as of 1:16 p.m. in Tokyo. The Korean won jumped 0.6 percent to 1,144.20 per dollar, leading the pack of Asian currencies.
The Bloomberg Dollar Spot Index slid 0.2 percent.
The Canadian dollar and euro both gained 0.1 percent, the latter building on Tuesday's 0.6 percent advance. The pound was little changed.
The onshore yuan climbed 0.2 percent, the most this month, to 6.7878 per dollar.
Stocks
S&P 500 futures were down less than 0.1 percent. FTSE 100 futures rose 0.4 percent.
Japan's Topix Index lost 0.6 percent and Australia's S&P/ASX 200 Index declined 0.8 percent. South Korea's Kospi Index fell 0.1 percent. Trading volume was below average in all three markets.
Hong Kong's Hang Seng Index climbed 0.8 percent to above the key 26,000 mark, led by banks. The Shanghai Composite Index fluctuated through the morning and was last down 0.2 percent. The MSCI Asia Pacific Index gained 0.4 percent.
Bonds
The yield on Australian 10-year bonds fell two basis point to 2.74 percent, halting five days of gains. The 10-year U.S. Treasury yield dropped one basis point for a third day to 2.35 percent.
The Bank of Japan raised outright purchases of 3-5 year government notes to contain a recent increase in medium-term yields.
Commodities
WTI crude climbed 1.7 percent to $45.82 a barrel.
Gold was up 0.2 percent at $1,219.99 an ounce and silver rose 0.9 percent to $15.88.