EghtesadOnline: Warren Buffett's contributions to charities led by the Bill & Melinda Gates Foundation climbed past $27 billion after a record 2017 gift.
The 86-year-old chief executive officer of Berkshire Hathaway Inc. gave 18.6 million B shares to five foundations in his latest round of donations, according to a statementMonday. That's worth about $3.17 billion, according to Bloomberg.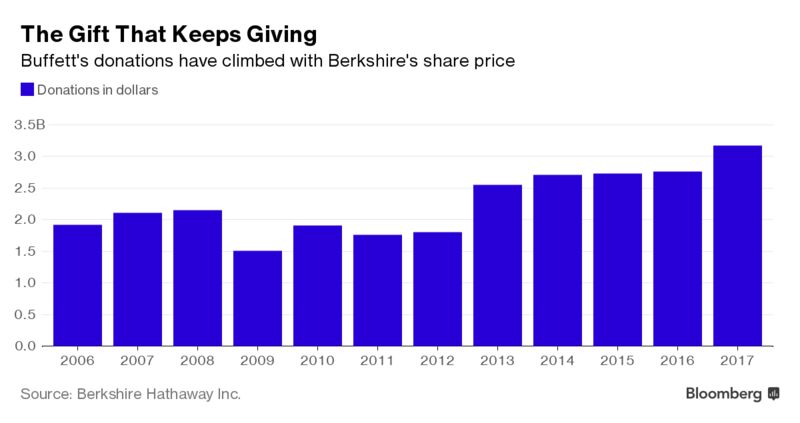 Buffett's 2006 decision to commit most of his wealth to the foundation was described by his children as the "big bang," the billionaire wrote in a letter to the Gateses late last year. In the message, he urged the couple to write their own explanation of how they measure their work and "would like the final scorecard to read."
The couple responded with what they called "a story about the stunning gains the poorest people in the world have made over the last 25 years." They wrote about efforts to promote family planning, counter malnutrition and deliver vaccinations to kids.
"Children in Africa were dying because they were poor," Bill Gates wrote. "To us, it was the most unjust thing in the world."
Much of Buffett's giving is on autopilot, following a formula he laid out in 2006. Since then, he's encouraged other billionaires to give, highlighting how recent commitments from young entrepreneurs, like Airbnb Inc.'s co-founders, can set an example for a new generation of philanthropists.
Buffett has pledged 500 million shares to the Gates Foundation, and each year he gives 5 percent of the remaining total. Even though there are fewer shares given each year, the dollar value of the gifts has been climbing recently because of gains in the stock price.
Berkshire Class B stock jumped about 19 percent in the past 12 months, helped by Buffett's investments in companies such as Wells Fargo & Co, American Express Co. and Apple Inc.
In addition to the Gates initiative, Buffett makes annual awards to four other foundations. They include the Susan Thompson Buffett Foundation, which is named after his first
wife, who died in 2004. Also, he donates to foundations led by each of his three children.