EghtesadOnline: World leaders meeting in Hamburg ran into a major rift over global economic policy as President Donald Trump held firm to his America First doctrine at the expense of unity.
The first day of a two-day summit of Group of 20 leaders was marred by disagreement on free trade and on climate change, with Trump's protectionist stance the chief sticking point. During a working lunch, Trump stressed that he will always defend the American worker, according to a western diplomatic official familiar with the closed-door session, Bloomberg reported.
French President Emmanuel Macron challenged Trump's view that the U.S. is losing out on trade, the official said. Taking out his mobile phone, Macron said that when he bought it, he created a trade deficit with the U.S., but that when America built it, it created a trade deficit with China. His point was that it doesn't make sense to talk about bilateral trade deficits in a multilateral world, the official said.
The exchange illustrates the world's struggle to come to terms with the Trump era and his administration's determination to remold the postwar global consensus in favor of the U.S. The last major summit, of G-7 leaders in May, ended with the U.S. isolated on climate change. With impasse again threatening, this time on trade, government officials known as sherpas were preparing to work into the night in a bid to forge a compromise that all G-20 leaders can support.
"The sherpas still have a big chunk of work ahead on the statement on trade," German Chancellor Angela Merkel, the summit host, told reporters. "These discussions are very difficult -- I don't want to beat around the bush."
Buzzing Helicopters
Outside the talks, tension hung in the air as sporadic violence broke out among anti-globalization protesters and anarchist groups. Locals woke to find cars burning in parts of the city, police called in reinforcements and the sound of buzzing helicopters could be heard all day. At one point Melania Trump was unable to leave her hotel because of security concerns.
Back in the room, negotiations stumbled even after Merkel said most G-20 leaders are committed to trade that's "free" but also "fair," a semantic concession to Trump's complaint that global commerce is biased against the U.S.
Italian Prime Minister Paolo Gentiloni, who hosted the G-7 in Sicily, said that discussion on bolstering growth without "defensive stands on protectionism" remained open. The issue of climate change is "naturally linked" to trade, with an "overwhelming majority" of G-20 countries supporting Paris accord, he said.
"We have to decide, either we go for free and fair trade, or each nation protects its own garden," he told reporters.
Empowering Women
Saturday's sessions will tackle migration -- another area where leaders disagree -- and a "partnership with Africa," then digitization, empowering women and employment. However, Trump's protectionist bent looks set to dominate in Hamburg as it did in Sicily.
Chinese President Xi Jinping kicked off this meeting with a coded criticism of how certain "major developed nations" have "significantly backtracked" on globalization, and made a pitch for nations such as his own and Russia to step up and fill the leadership vacuum. Later, over lunch, Trump sat with his arms folded and scowled as Xi spoke, according to the diplomatic official.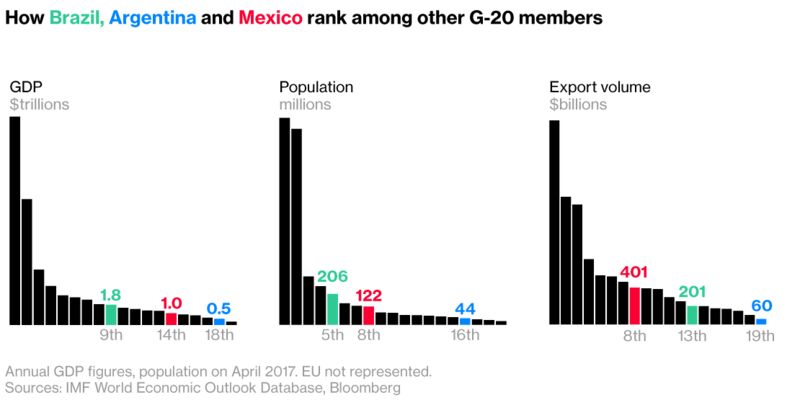 Even President Vladimir Putin, who met with Trump for the first time Friday, pushed the U.S. leader to come around on trade, according to Russia's economy minister.
"Nineteen countries were speaking about free trade and one country was highlighting that this country -- United States -- needs reciprocal approach to the trade," Maxim Oreshkin said in an interview in English with Bloomberg Television. "So that was kind of dissonance between the position of United States and position of all other countries."
Still, Merkel is an old hand at negotiations like this and committed herself to finding an agreement. Mexican Foreign Minister Luis Videgaray also expressed confidence that a compromise can be reached.
"There are some differences and I think in the coming hours we can get a text that is agreeable to all," he said. "There is a consensus that we should have more trade not less. It's got to be trade that is more inclusive and gives a fair opportunity to everybody."