EghtesadOnline: As always, the motion of benchmark indexes tells only some of the story in the stock market. Below the surface, pain is getting hard to bear in some spots.
Consider Tesla Inc., a topic of much recent analyst commentary. The automaker is down 18 percent from its record high in June, just short of a bear market. Nvidia Corp. is sitting on an 11 percent loss since June 8, while International Business Machines Corp. and Symantec Corp. are down at least 16 percent since their 52-week highs, Bloomberg reported.
The average stock in the Nasdaq 100 Index is hovering about 12 percent below its 52-week high, while 15 percent are in bear market declines of 20 percent or more. Depending on luck, many investors are doing a lot worse than the loss implied by the benchmark's 4.6 percent retreat over the last four weeks.
"Some are saying that the rout will reverse as the earnings season kicks in, but we have to see blowout sales and profit numbers to justify the tech mega-caps at current levels," said Larry Peruzzi, managing director of international equities at Mischler Financial Group Inc. in Boston. "It was the time for a little bit of of a correction."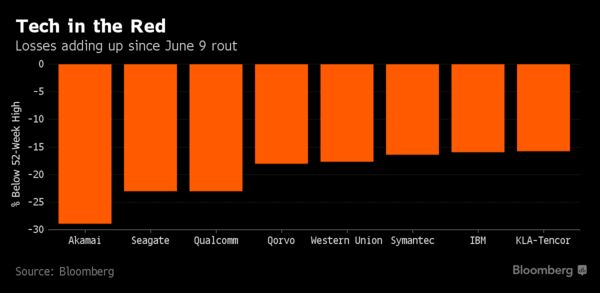 Things didn't improve just because the quarter ended. The gauge is down 0.6 percent in July. The index fell as much as 1.2 percent on Thursday and briefly slipped below the May 17 closing level of 5,580.55, which marked the end of a selloff triggered by a series of damaging revelations surrounding Donald Trump's dealing with Russia and top U.S. intelligence officials. This comes as price swings in the Nasdaq have outpaced the rest of the market, with the spread between volatility in the tech gauge and the S&P 500 holding near the widest since 2008.
Should the Nasdaq 100 break the May 17 low, "then the risk of a quick move down to 5,400 looks real enough," said Michael Shaoul, chairman and CEO at Marketfield Asset Management LLC in New York. "Even though this would only take the index back to its level toward the end of April it would still have commentators rushing to employ the term 'correction."'