EghtesadOnline: U.S. stocks closed up Friday buoyed by increases in the industrial and consumer discretionary sectors, while European shares reversed earlier gains and turned lower. Oil continued to climb as concerns about an oversupply faded.
In the U.S., the S&P 500 Index and Dow Jones Industrial Average rose in light trading leading up to the July 4 holiday. Meanwhile, Europe's benchmark equity gauge added to its fourth straight weekly loss. Bond yields continued to move higher as central bankers this week shifted toward a more hawkish tone. The dollar gained slightly, Bloomberg reported.
Volatility is making a comeback -- though still low by historical standards -- as the debate on normalizing central bank policy intensifies after nine years of unprecedented stimulus. That suggests some investors are growing concerned about the economy's ability to withstand a tightening cycle even as data Friday showed U.S. consumer spending rose in line with economists' estimates in May. Technology stocks have been under pressure this week, while banks have been supported on the prospect for higher rates.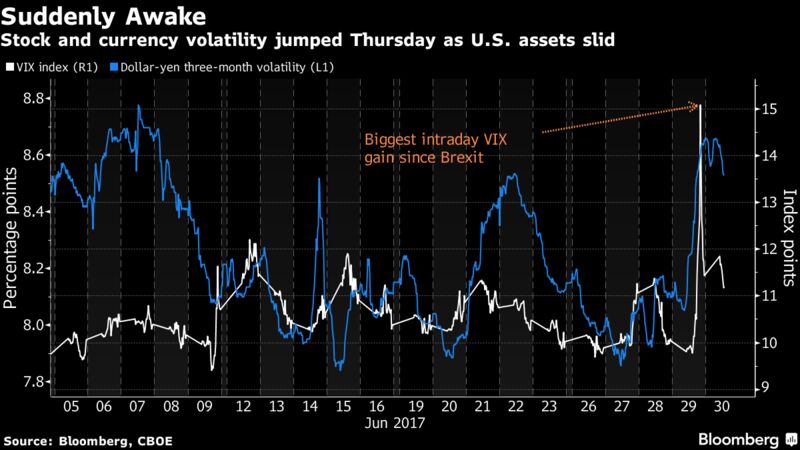 Here are the main moves in markets:
Stocks
The S&P 500 Index ended up 0.2 percent, following Thursday's 0.9 percent decline. The gauge gained 2.6 percent in the quarter.
The Dow Jones Industrial Average rose 0.3 percent and ended the quarter up 3.3 percent, while the Nasdaq Composite Index retreated less than 0.1 percent and posted a 3.9 percent increase in the quarter.
The Stoxx 600 Europe Index fell 0.3 percent as gains in technology and consumer shares couldn't offset losses in chemical makers. The gauge declined 0.5 percent in the quarter. Bayer AG lost 3.7 percent as it expects an earnings hit from its Brazilian crop science business.
Currencies
The euro fell 0.2 percent to $1.1421, after increasing 0.6 percent on Thursday to the highest levels since last year's Brexit vote. It gained 7.2 percent this quarter.
The pound rose 0.1 percent to $1.3025, adding to seven days of gains. The currency was up 3.8 percent this quarter.
The yen fell 0.3 percent to 112.47 per dollar.
The Bloomberg Dollar Spot Index added 0.1 percent but notched a monthly decline of 1.3 percent, its fourth straight month of losses. The gauge dropped 3.2 percent in the quarter.
Commodities
WTI crude futures rose 2.9 percent to $46.21 a barrel. Oil was up 7.5 percent this week with prices climbing as government data showed a drop in U.S. gasoline supplies that have remained stubbornly high at the start of the summer driving season.
Gold fell 0.3 percent to $1,241.53 an ounce. The precious metal posted its first monthly decline this year, dropping 2.2 percent.
Bonds
The yield on 10-year Treasuries rose three basis points to 2.30 percent. The rate climbed 16 basis points this week.
Benchmark yields in the U.K. increased by one basis point to 1.26 percent and were up 23 basis points this week. German yields gained one basis point to 0.47 percent.
Asia
The MSCI Asia Pacific Index fell 0.7 percent. The gauge has added 15 percent over the past two quarters.
Japan's Topix dropped 0.8 percent, bringing its quarterly gain to 6.6 percent.