EghtesadOnline: U.S. stocks halted a three-day slide, while Treasury yields and the dollar edged lower as a week dominated by crude's tumble into a bear market ended with the three major American assets largely unchanged.
The S&P 500 Index finished the period virtually where it began, as rallies in health-care and tech shares offset a rout in energy producers. Small caps rallied Friday to end higher on the week. Crude capped a fifth straight weekly decline after falling into a bear market. The dollar slipped a third day, though not enough to erase a slight gain in the week. The 10-year Treasury yield fell less than one basis point in the five days as a parade of Federal Reserve officials said little to alter views on the timing for rate increases. Gold rose for a third day to offset a two-day slump and finish the week flat, Bloomberg reported.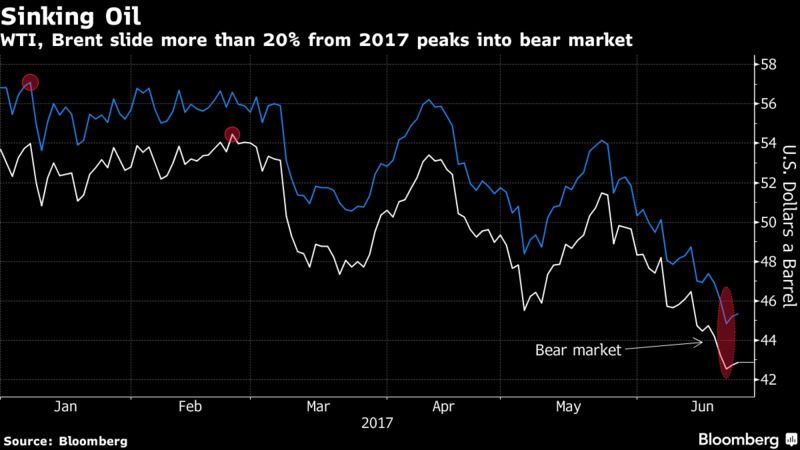 Weakness in energy prices were the theme of the week, with oil in New York and London dropping into a bear market on concerns that expanding supply in the U.S. and Libya will counter OPEC output cuts. Few signs of contagion emerged though, leaving everything from gold to the dollar to U.S. equities to churn in tight ranges as the traditionally slow summer season began. Europe focused on the negotiations to untangle Britain from the union, while U.S. investors rotated back into technology shares two weeks after pummeling the high flying group.
Here are the main moves in markets:
Stocks
The S&P 500 rose less 0.2 percent to 2,438.16 at 4 p.m. in New York. The index rallied 0.8 percent Monday to close above 2,350 for the first time, only to slide over three days and end 0.2 percent higher in the week.
The Russell 2000 Index jumped 0.7 percent to cap a weekly gain of 0.6 percent. The operator of the index reshuffled membership Friday.
Health-care shares in the S&P 500 posted the best week since November amid signs the Trump administration won't come after drug prices and some positive lab results from biotech firms.
Energy producers slumped more than 3 percent for their worst week since February 2016.
The Stoxx Europe 600 Index slipped 0.2 percent, capping a third straight weekly decline. The FTSE 100 Index lost 0.2 percent, for a 0.5 percent drop in the five days.
The MSCI Emerging Markets Index rose 0.4 percent to finish 1 percent higher in the week.
Commodities
West Texas Intermediate crude added 27 cents Friday to settle at $43.01 a barrel, cutting its loss this week to about 4 percent.
Gold futures rose 0.6 percent to $1,257.10 an ounce, for a third day of gains.
Currencies
The Bloomberg Dollar Spot Index fell 0.3 percent. It added 0.2 percent for the week, after rallying Monday and Tuesday on Fed rate-hike expectations.
The pound strengthened 0.4 percent to $1.2726, paring its drop this week to 0.5 percent. The euro climbed 0.4 percent to $1.1200.
The yen rose less than 0.1 percent to 111.29 per dollar.
Bonds
The yield on 10-year Treasuries added less than one basis point to 2.15 percent. It's virtually unchanged for the week.
U.K. 10-year gilt yields rose two basis points to 1.03 percent, led by losses in shorter-dated securities as U.K. money markets push odds of a rate hike by the end of 2017 over sixty percent.