EghtesadOnline: The bear market in crude in many ways resembles its more severe predecessors from 2014 and 2016: oil prices plummeting, non-U.S. producers floundering to keep supply at bay and concerns swirling around the impact of energy companies on high-yield bonds.
There's just one exception. This time the stock market doesn't seem to care.
The correlation between daily swings in the S&P 500 Index and crude has been roughly zero the past month, the lowest since January and far below the five-year highs reached in 2016 as the oil prices bottomed near $26 before staging a rebound, according to Bloomberg.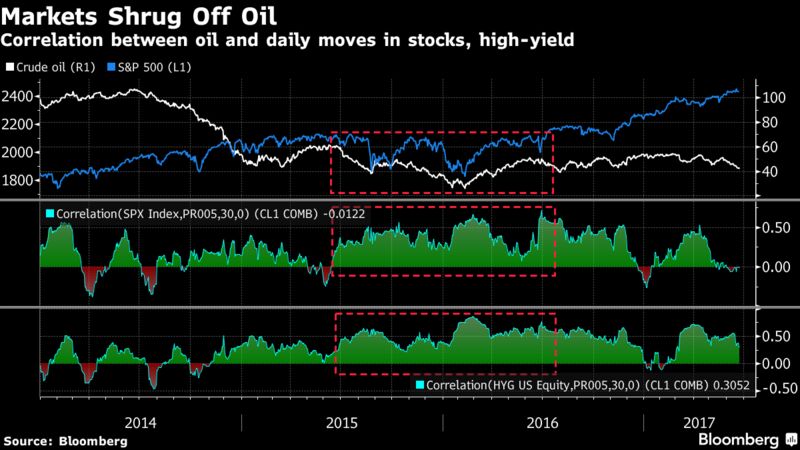 One explanation for the recent action may be simple math. The bear market that ended in 2016 wiped out the market capitalizations of energy companies across the board, lessening the industry's impact on the overall market. Today, energy stocks account for less than 6 percent of the S&P 500, compared with 11 percent three years ago.
Another possibility is that investors don't see systemic risk tied to oil's weakness. Correlation between crude and the high-yield bond market has also weakened of late. The figure currently sits at 0.32, compared with a peak of 0.87 in February 2016.
One of the biggest differences between now and then, according to Sean Darby, chief global equity strategist at Jefferies Hong Kong Ltd., is that oil weakness was compounded by weakening demand from China, while the dollar was strengthening ahead of Fed hikes. Another key difference Darby noted is that break-even rates at North American shale producers are lower.
"The backdrop for oil prices is very different," Darby wrote in a report Thursday. "There has been significant improvement in balance sheet repair in 2016 through capital raisings while many producers hedged production as oil prices rose."