EghtesadOnline: U.S. stocks eked out a gain, while the dollar weakened with Treasury yields after poor housing data and a slump in consumer sentiment added to signs the American economy's growth rate may be slower than forecast. Oil rose with metals.
Food retailers led losses in the S&P 500 Index after Amazon.com Inc. agreed to buy Whole Foods Market Inc. The benchmark for American equity pushed into the green in the final minute of trading during an event known as quadruple witching, when futures and options contracts expire. Tech shares slipped, pointing the Nasdaq 100 Index to a second straight weekly decline. The dollar capped a weekly drop after new-home construction faltered for a third month and consumer confidence fell the most since October. Oil pared a fourth straight weekly decline, according to Bloomberg.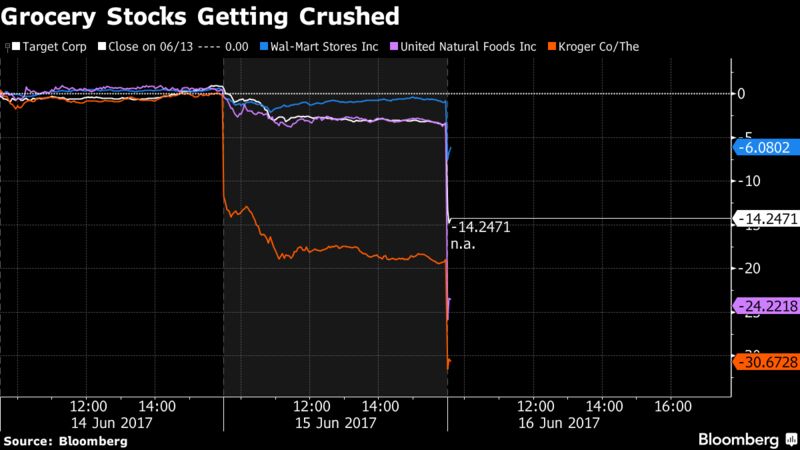 Equities largely weathered a week that saw the Federal Reserve hike rates and renewed tumult in Washington that continues to delay the Trump administration's policy agenda. Data Friday ratcheted up concerns that slower U.S. growth may take hold just as the Fed's third hike since December lands. Oil's woes add to slowing inflation. In France, newly elected Emmanuel Macron looks set for an historic majority in the National Assembly on Sunday.
"The data this week has not been encouraging," said Mariann Montagne, a portfolio manager at Gradient Investments LLC, which oversees about $1.4 billion. "We need to see consumer spending pick up and more confidence across the board before we can get going again. We're in a weird limbo, coupled with the the summer doldrums. But if we had great numbers coming out, there would be decisions made."
Here's what investors will be facing in the next few days:
France completes its election with a second round of voting on Sunday that's expected to hand President Macron an overwhelming legislative majority.
MSCI Inc. announces on Tuesday the results of its 2017 Annual Market Classification Review, including whether the MSCI Argentina and MSCI China A indexes will be added to the emerging-markets gauge.
Here are the major movers:
Stocks
The S&P 500 rose less than one point to 2,433.14 as of 4 p.m. in New York, leaving it higher by 0.1 percent for the week.
The Nasdaq 100 lost 0.3 percent, giving it a 1.1 percent slide in the week. It's at the lowest since May 19.
Amazon climbed 2.5 percent while Whole Foods spiked 29 percent to the highest since April 2015. Food retailers in the S&P 500 lost 5.1 percent.
The Stoxx Europe 600 Index rose 0.7 percent, paring its weekly decline to 0.5 percent.
The MSCI Emerging Market Index fell 0.1 percent to cap a 1.4 percent decline in the week.
Currencies
The yen rose 0.1 percent to 110.865 per dollar, after dropping 1.2 percent in the previous session, the most since January.
The Bloomberg Dollar Spot Index fell 0.3 percent as the greenback underperformed all Group of 10 peers. It slid 0.3 percent on the week.
The euro rose 0.5 percent to $1.1199.
Bonds
The yield on 10-year Treasury notes fell one basis point to 2.15 percent, after Thursday's four-basis point jump. The rate dropped on Wednesday to 2.13 percent, the lowest level since November.
German benchmark bund yields lost one basis points to 0.27 percent.
Commodities
West Texas crude futures rose 0.6 percent to settle at $44.74 a barrel. Oil fell more than 2 percent for the week to cap its longest run of weekly losses since 2015. OPEC member Libya restored production and the surplus in the U.S. shows little sign of abating.
Gold rose 0.1 percent to $1,254.82. The metal is heading for a second weekly loss, falling 0.9 percent.