EghtesadOnline: Volatility in parts of the bond market is getting so low that some investors are taking it as a warning sign.
Expectations for price swings in the market for Treasuries have shrunk to the lowest level in four years, raising concern that traders have become complacent and risk getting caught off guard when bonds start moving again, Bloomberg reported.
"Market participants are underestimating the risk of movement in the Treasury market, the risk of higher yields," said Hiroki Shimazu, an economist in Tokyo at the Japanese unit of MCP Asset Management Co., which has $6 billion in assets.
Bank of America Corp.'s MOVE Index, a gauge of price swings in Treasury options, fell to 51.7 Tuesday, the lowest level since May 2013. Yields began to climb that month, when then-Federal Reserve Chair Ben S. Bernanke said the economy was improving so much the U.S. central bank could start scaling back its massive monetary stimulus.
The end result for 2013 was a 2.8% decline for the Bloomberg Barclays U.S. Treasury Total Return Index, one of only two annual losses over the past decade.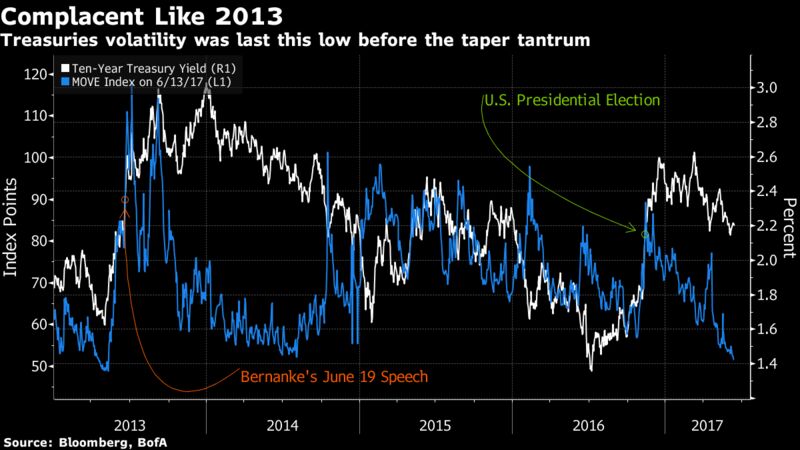 The MOVE gauge is sliding for a fifth straight month, suggesting investors are sanguine before a likely Fed interest-rate increase on Wednesday.
With inflation expectations subsiding and a standstill in President Donald Trump's plans to cut taxes and increase infrastructure spending, yields have even come down. The 10-year U.S. benchmark has fallen to 2.20 percent from 2.60 on March 14, the day before the last Fed hike. Trump's election had helped drive the yield up 85 basis points in the final quarter of 2016, the steepest increase in seven years.
While there are market participants who see the bond bull run rolling on, the positioning indicates traders are vulnerable to a number of potential bearish developments. For example, the Fed could underscore this week its intentions to keep raising rates and start shrinking its $4.46 trillion balance sheet, after concluding that recent weakness in U.S. growth was transitory.
Jeffrey Gundlach, the chief investment officer at DoubleLine Capital LP, is the latest to chime in. The days of low-volatility markets are probably numbered, and investors should expect higher bond yields, he said in a webcast Tuesday.
Ten-year yields will probably end 2017 in the 2.7 percent to 2.8 percent range, said Gundlach, who is based in Los Angeles.