EghtesadOnline: A selloff in technology shares spoiled an otherwise buoyant day in the U.S. stock market as companies from Apple Inc. to Nvidia Corp. tumbled. The British pound dropped as the U.K.'s ruling Conservative Party lost its parliamentary majority, plunging the country into uncertainty just days before Brexit negotiations were due to start.
Sterling fell the most in eight months as the election intended to strengthen Prime Minister Theresa May's hand in negotiations with the European Union instead left her battling to survive. The currency's retreat gave British stocks a boost, as the FTSE 100 Index gained around 1 percent. U.K. bonds rose.
Outside of Britain, investors turned their attention to sinking technology stocks following early enthusiasm that had pushed U.S. equity indexes to new intraday highs. The move lower began when Robert Boroujerdi, global chief investment officer at Goldman Sachs Group Inc., warned that low volatility in Facebook Inc., Amazon.com Inc., Apple, Microsoft Corp. and Google parent Alphabet Inc. may be blinding investors to risks such as cyclicality and regulation. The S&P 500 technology index plunged 2.7 percent, Bloomberg reported.
The U.K. vote capped a series of major events this week -- including former FBI Director James Comey's testimony before the Senate Intelligence Committee on Thursday -- that passed with relatively little fuss. Attention will now turn to the week ahead, when the Fed is expected to raise interest rates and the Bank of England, the Bank of Japan and the Swiss National Bank also meet.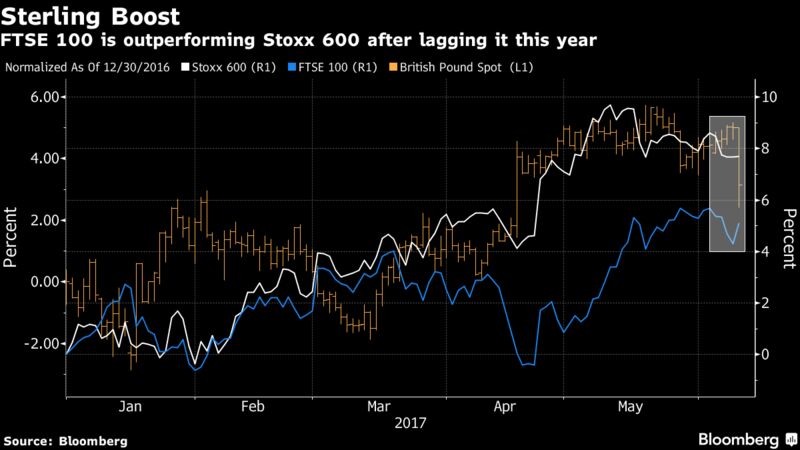 "For now, the results of the U.K. elections do not appear to be threatening the global growth story," Mark Haefele, global chief investment officer at UBS Group AG, said in a note to clients. But for Britain,"political uncertainty is likely to more than offset any benefit from a marginally weaker pound," he said.
Here's what investors will be facing next:
French voters go to the polls over the weekend, this time as part of a two-step process for parliamentary elections. The outcome will decide how much control new President Emmanuel Macron will have to enact his legislative agenda.
Federal Reserve policy makers are forecast to raise their benchmark interest rate for the second time this year at the conclusion of a two-day meeting next week. Central banks in Japan and Britain are also scheduled to weigh in with policy decisions.
Here are the main moves in markets:
Stocks
The S&P 500 fell 0.1 percent, while the Dow Jones Industrial Average rose 0.4 percent. The tech-heavy Nasdaq Composite Index dropped 1.8 percent, and the Nasdaq 100 Stock Index plunged 2.4 percent.
Apple led decliners in the S&P 500, sinking 3.7 percent, while Microsoft, Amazon, Facebook and Google all lost more than 1 percent.
The FTSE 100 climbed 1 percent. The Stoxx Europe 600 Index added 0.3 percent.
Currencies
The pound weakened 1.8 percent to $1.2734 per dollar, while the yen retreated 0.2 percent to 110.26 and the euro slipped 0.2 percent to $1.1197.
The Bloomberg Dollar Spot Index added 0.2 percent.
Bonds
The yield on 10-year Treasuries rose two basis points to 2.21 percent.
U.K. gilt yields dropped three basis point after climbing three basis points on Thursday.
German bund yields rose one basis point to 0.26 percent. French 10-year yields were essentially flat.
Commodities
West Texas crude rose 0.5 percent to $45.86 a barrel, after two days of losses. Oil has slumped this week as an unexpected increase in U.S. stockpiles cast doubt on OPEC's ability to rebalance world crude markets.
Gold fell 0.8 percent to $1,269.40 an ounce, declining a third day.
Asia
Japan's Nikkei 225 Stock Average jumped 0.5 percent. SoftBank Group Corp. rallied 7.4 percent to the highest in 17 years after agreeing to buy Boston Dynamics from Google parent Alphabet Inc.