EghtesadOnline: Investors adopted a cautious stance ahead of a barrage of events due in the next 48 hours.
There's a reluctance to add to risk positions ahead of testimony from former FBI Director James Comey, the ECB's policy decision and the U.K. election. Treasuries steadied after climbing on news that China is prepared to buy more of the notes. The dollar remained near an eight-month low. Japanese stocks retreated after the S&P 500 Index fell the most since mid-May. Gold remained near a seven-month high. One standout move was the Aussie dollar, climbing after growth Down Under was largely in line with expectations, Bloomberg reported.
Thursday is shaping up to be a pivotal day for capital markets. Comey's testimony may give clues on how politically effective the Trump administration will be in refocusing attention on its policy agenda. Investors had already taken a defensive stance this week following a diplomatic spat among energy producing nations in the Middle East and the weekend's terror attack in London.
"It's hard for investors to make a move before we pass these risk events overseas," said Mitsuo Shimizu, deputy general manager at Japan Asia Securities in Tokyo.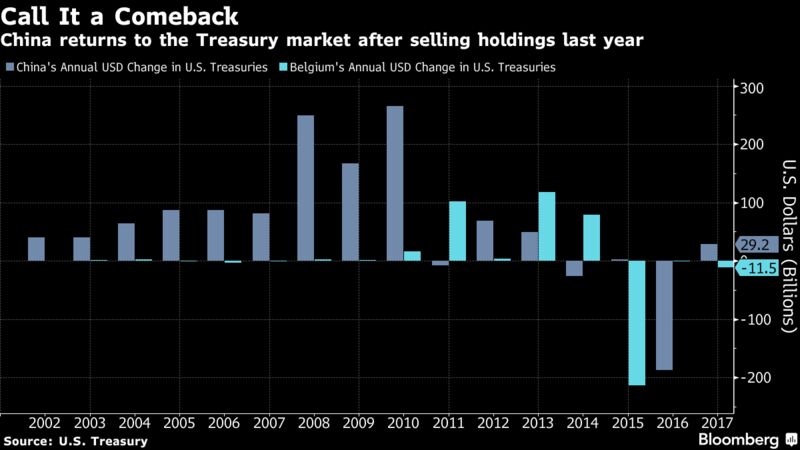 Here are some of the key upcoming events:
Hedge fund and asset managers are gathering at the Sohn Conference in Hong Kong to present their investment ideas. Follow our live blog of the event here. Muddy Waters Capital's Carson Block said he will release a short idea on a Hong Kong listed stock, while Oasis Management's Seth Fischer and Tybourne Capital Management's Eashwar Krishnan will also speak.
The European Central Bank releases its policy decision Thursday. Mario Draghi speaks later that day. Don't expect policy changes, but the bank may drop the reference to "downside" risks to growth, while reiterating a weak inflation outlook, Bloomberg Intelligence said.
Surveys of U.K. voters over the past few weeks have indicated a tightening race for Thursday's election, increasing the chance that Prime Minister Theresa May might not bolster her majority.
Comey in testimony Thursday will publicly describe conversations with Donald Trump but stop short of saying if he thinks the president sought to obstruct a federal probe of Russia's role in the 2016 election, according to a person familiar with Comey's thinking.
Here are the main moves in markets:
Currencies
The yen fell less than 0.1 percent to 109.48 per dollar as of 12:31 p.m. in Tokyo after climbing 0.9 percent on Tuesday.
The Bloomberg Dollar Spot Index rose less than 0.1 percent, after sliding 0.4 percent in the previous session to the lowest level since October.
The Aussie climbed 0.4 percent to 75.37 U.S. cents, the highest level in a month. Australia's economic growth slowed in the first quarter, constrained by weak net exports and a drop in housing investment, though the result matched economists' estimates.
Stocks
Japan's Topix index fell 0.1 percent, dropping for a third straight day. Australia's S&P/ASX 200 Index declined 0.2 percent to the lowest level since February. South Korea's Kospi index slipped 0.1 percent.
Hong Kong's Hang Seng climbed less than 0.1 percent, after topping 26,000 on Tuesday for the first time since July 2015. The Shanghai Composite increased 0.8 percent.
Futures on the S&P 500 added less than 0.1 percent after the underlying gauge lost 0.3 percent on Tuesday.
Commodities
Gold lost 0.2 percent to $1,292 an ounce after surging 1.1 percent in the previous session.
WTI crude oil lost 0.1 percent to $48.15 a barrel, following its 1.7 percent surge on Tuesday.
Bonds
The yield on 10-year Treasuries rose less than one basis point to 2.15 percent, after dropping four basis points on Tuesday.
Australian government notes with a similar maturity were flat at 2.38 percent.