EghtesadOnline: Oil dropped to the lowest level in more than three weeks as the market refocused on glut concerns after a diplomatic clash involving Saudi Arabia and Qatar was seen as having a limited impact on supply.
Futures dropped 0.6 percent in New York, after rising as much as 1.6 percent earlier in the session. Saudi Arabia, Bahrain, the United Arab Emirates and Egypt said they will suspend air, sea and land travel to and from Qatar, escalating a crisis that started from a dispute over relations with Iran. Qatar, though, still has access to shipping routes to deliver oil and gas to global buyers, and the specter of rising U.S. rig counts remains an issue, according to Bloomberg.
"The market has again turned its focus to worries that excess supplies are going to continue to keep the glut in place," Gene McGillian, market research manager at Tradition Energy in Stamford, Connecticut, said by telephone.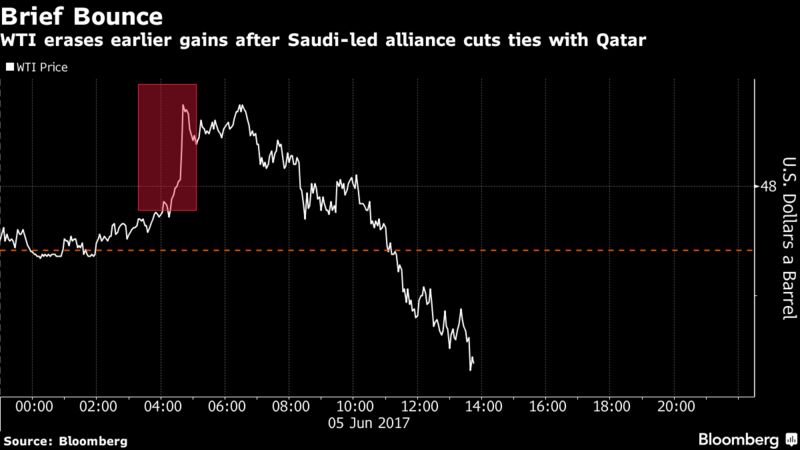 West Texas Intermediate for July delivery slipped 26 cents to settle at $47.40 a barrel on the New York Mercantile Exchange, the lowest level since May 10. Total volume traded was about 12 percent above the 100-day average. WTI fell 4.3 percent last week, the largest weekly drop since early May.
Gasoline futures for July delivery declined 2.5 percent to settle at $1.5381 a gallon, the lowest level in more than three weeks. The July gasoline crack spread, a rough measure of the profit from the refining crude into gasoline, fell by $1.38 to settle at $17.20 a barrel.
Brent for August settlement fell 48 cents to end the session at $49.47 a barrel on the London-based ICE Futures Europe exchange. The global benchmark crude traded at a premium of $1.89 to August WTI, the smallest premium since late February.
Crude has traded below $50 a barrel in New York since the Organization of Petroleum Exporting Countries agreed to extend output cuts amid lingering concerns that the reductions won't be enough to shrink global inventories as U.S. output continues to expand. While the Saudi-Qatar diplomatic spat hasn't affected shipments, further escalation could raise the prospect of supply disruptions from the Middle East, including OPEC members Saudi Arabia, Iran and Qatar.
The nations all use the Strait of Hormuz, through which the U.S. Department of Energy estimates about 30 percent of seaborne oil trade passes.
'No Disruption'
"The gas continues to flow. There is no disruption in the cargo schedule. At the end of the day, it sends the signal that there's not this unified OPEC-type situation that is advertised," Bob Yawger, director of the futures division at Mizuho Securities USA Inc. in New York, said by telephone.
In the meantime, "the rig count in the United States is up 20 weeks in a row," Yawger said. "We're not going to burn off the storage overhang here in the U.S. any time soon."
While OPEC members have had political disputes and even fought wars through the organization's 57-year history, their shared economic interests have meant agreements on oil production have still been implemented. The same will probably happen during the current dispute, said Abdulsamad Al-Awadhi, a London-based analyst who was one of Kuwait's representatives to the group between 1980 and 2001.
Glut Worries
Drillers targeting crude in the U.S. added rigs for the 20th straight week to the highest level since April 2015, according to data Friday from Baker Hughes Inc. Nationwide crude output is at the highest level since August 2015.
Worries remain that OPEC and non-OPEC's deal to cut output by about 1.8 million barrels a day "is really going to face a significant offset by rising production levels elsewhere in the world," Tradition Energy's McGillian said.
Oil-market news: