EghtesadOnline: The diplomatic clash between Qatar and three Arab allies flared regional tensions and caused oil prices to jump. For OPEC, it's likely to remain business as usual.
Saudi Arabia and three other Arab countries severed most diplomatic and economic ties to Qatar to punish the nation for its links with Iran and Islamist groups. Although most of the countries involved are members of the Organization of Petroleum Exporting Countries, the stand-off is seen posing little threat to the group's initiative to re-balanceworld oil markets by cutting production, Bloomberg reported.
"It is not the first time for OPEC to see a political rift between its member countries, and it's not going to be the last," said Abdulsamad Al-Awadhi, a London-based analyst who was one of Kuwait's representatives to the group between 1980 and 2001. "OPEC has gone through many political and military conflicts among its members and this has never had an impact on the flow of work of the organization or its binding agreements."
While OPEC members have fought political disputes and even wars through the organization's 57-year history, their shared economic interests have meant policies on oil production have still been implemented. The group withstood a bitter conflict between Iran and Iraq in the 1980s and Saddam Hussein's 1990 invasion of Kuwait. Renewed hostility between Saudi Arabia and Iran didn't prevent last year's historic agreement to curb production.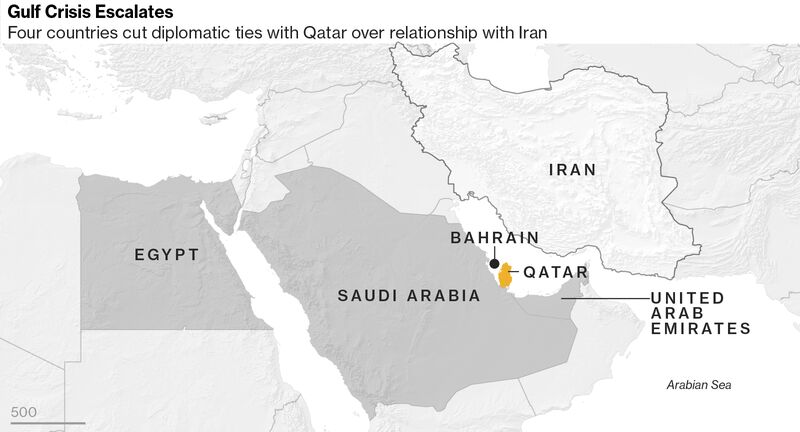 After initially jumping as much as 1.6 percent on the diplomatic spat, Brent crude erased its gains to close 1 percent lower in London on Monday. Prices extended declines Tuesday, down 0.4 percent at $49.27 a barrel as of 5:51 a.m. in London.
Shared Interests
Russia, which is cooperating with OPEC on supply cuts, doesn't see tensions in the Gulf having any impact on the deal, the nation's Vienna-based envoy to international organizations, Vladimir Voronkov, told RIA Novosti.
"There are no signs of any disruption to the OPEC and non-OPEC deal," said John Sfakianakis, a Riyadh-based director of research at Gulf Research Center. "It is not only in the GCC's national energy interest but also it is in Russia's national interest to see the OPEC deal sustained as everyone needs higher oil prices and a stable market."
Here are some examples of OPEC's ability to keep working despite conflict:
1980s -- Iran and Iraq waged an eight-year war that disrupted production in both members, yet OPEC still managed to set its first-ever output quotas in 1983.
1990 -- After Iraq invaded Kuwait on Aug. 2, the combined production of both countries -- 4.3 million barrels a day -- was halted, according to the Energy Information Administration. OPEC continued to meet through the conflict.
2011 -- Syria's civil war intensified tensions between Saudi Arabia and Iran, with Iran supporting the regime of Bashar Al-Assad while Saudi and other Sunni-led members backed rebels seeking to topple him. OPEC agreed a new collective production ceiling in December of that year.
2015 -- Yemen's civil war deepens the divide, with Saudi Arabia accusing Iran of backing rebel factions. Despite the friction, the group settled on its first production cut in eight years in November 2016.