EghtesadOnline: Gold may extend gains after climbing to the highest level in six weeks following disappointing monthly reports on U.S. employment and wages, according to two analysts attending a conference in Singapore this week.
Prices will probably increase to a four-year high above $1,400 an ounce this year as a "less than inspiring" recovery means the Federal Reserve won't step up the pace of increases in borrowing costs, leaving real rates in negative territory, according to Nikos Kavalis, director and founding partner of Metals Focus Ltd., an independent consultancy. Toronto-Dominion Bank's Bart Melek said gold may touch $1,300 with a $1,275 average in the fourth quarter.
According to Bloomberg, gold touched $1,282.11 an ounce on Monday, after jumping 1 percent Friday as the U.S. payrolls report missed expectations. While the Federal Reserve is poised to raise interest rates at its meeting next week after increases in March and December, investors increasingly doubt the central bank's projection for additional hikes. Goldman Sachs Group Inc. pushed back its forecast for a third rate increase this year to December from September.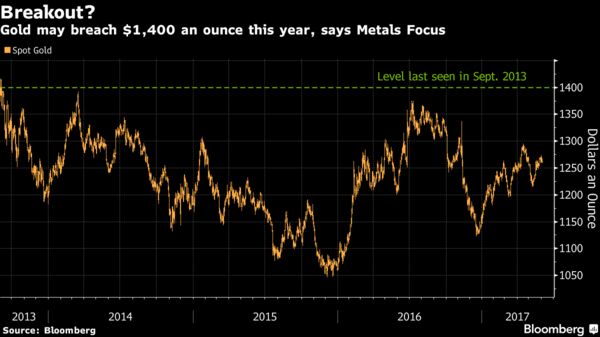 "The Fed is going to be very, very gentle in how it handles monetary policy hikes," Melek, who's director and global head of commodity strategy at TD Securities Inc., part of Toronto-Dominion Bank, said last week before the data. "As we move deeper into 2017, we are probably going to expect less and less aggressive actions, so chances are that the Fed will certainly hike in June, but after that, the certainty and then the rate that they've been talking about, may not actually materialize to the same extent. We're fairly confident that gold should do well."
Both Melek and Kavalis are scheduled to discuss the outlook for precious metals on Tuesday at a gathering organized by the Singapore Bullion Market Association. The group wants to establish the city-state as hub for connecting international markets with precious metals markets in Southeast Asia, where there is "explosive growth," Chairman Sunil Kashyap said in remarks prepared for delivery Monday. Gold traded at $1,280.68 by 9:25 a.m. in London, supported by some haven demand after a weekend terror attack in London.
Comey Testimony
The bullish sentiment surrounding gold is backed up by a jump in investor demand. Money managers boosted their long positions in U.S. futures to the highest in four weeks in the five days to May 30 after increasing them by the most in almost a decade a week before, Commodity Futures Trading Commission data show. Meanwhile, holdings in the SPDR Gold Trust, the world's largest exchange-traded backed by bullion, have climbed by more than 6 percent since the end of January to 851 metric tons as of June 2.
Global economic and political tail-risks provide potential for a short-term boost to gold, and when combined with other factors, they could be a catalyst for the next leg-up, Kavalis said last week. Fired FBI Director James Comey is due to testify June 8 before the Senate Intelligence Committee about his dismissal by President Donald Trump as the investigation into whether the president or his associates had improper contact with Russia shifts toward a public phase.
'More Turbulent'
"We're seeing these various investigations get very close to the White House, to the very core of his advising body," Melek said. "As such, it doesn't look very likely that the Trump administration is going to have a lot left over in terms of energy and determination to pass a lot of these initiatives through," referring to the president's pledges on action to revitalize the economy.
Politics are less predictable and the dollar's bull run may be nearing an end, John Reade, chief market strategist at the producer-funded World Gold Council, said on Monday. Asset markets are looking expensive, while bond yields are low, and low rates make financial markets complacent, said Reade, adding the environment has the potential to become "more turbulent."
Stronger-than-expected economic data, a more hawkish Fed and potential successes by Trump in implementing legislation would weaken the bullish case, according to Melek. Fed officials speaking Friday expressed no disappointment with the payrolls gain of 138,000 last month, which was below economists' expectations. Philadelphia Fed President Patrick Harker called it a "good number," while Dallas Fed President Robert Kaplan said "if we are not at full employment, we are moving closer."
Gold's rally has been more about a reappraisal of the likely path of U.S. monetary policy in light of disappointing economic data, rather than any risk premium associated with the appointment of a special counsel to investigate the relationship of Trump to Russia, according to a report distributed by Oanda Corp., a broker and financial services provider, before the payrolls data.
"We maintain our view that the U.S. economy will continue to grow slightly above trend consistent with the gradual re-emergence of inflation and a gradual tightening of monetary policy," the report said. "This should provide upside for the dollar and bond yields suggesting that near-term strength in gold is likely to prove temporary. We maintain only a cautiously bullish view."