EghtesdaOnline: Euro-area manufacturing and services continued to expand at the fastest pace in six years, powered by growth in the region's two biggest economies -- Germany and France.
A composite Purchasing Managers' Index held at 56.8 in May, unchanged from the previous month, IHS Markit said on Monday, confirming a May 23 estimate. A gauge for services slipped slightly, while one for manufacturing that was published on June 1 remained unchanged, Bloomberg reported.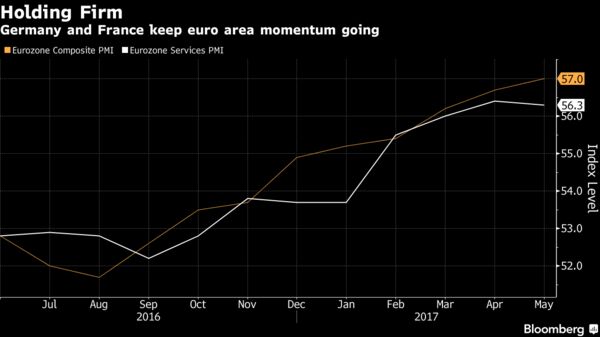 "The final PMI readings add to mounting evidence that the euro zone is enjoying a strong second quarter," said Chris Williamson, chief business economist at IHS Markit, adding that they point to a growth rate of 0.7 percent. "The outlook for the euro-zone economy therefore seems to be tilting to the upside."
The European Central Bank is unlikely to adopt such optimistic language at its Thursday meeting in Tallinn. So far, President Mario Draghi has accompanied every mention that the recovery is becoming increasingly robust with a warning that risks remain tilted to the downside and argued that stimulus is still needed to boost inflation.
Meanwhile, separate reports showed Italy and Spain, the third and fourth biggest euro-zone economies, continued to show strong momentum in May. Business activity and order books remained strong in Italy, while Spain saw further increases in employment for the month.
Input costs and selling prices eased somewhat in May but remained elevated and close to highs reached earlier in the year, IHS Markit said. Service providers saw a strong increase in costs, often linked to wage pressures as staffing levels continued to increase.
"With the rate of job creation rising to one of the highest seen over the past decade, the recovery is also becoming more sustainable, as the improved labor market should feed through to higher consumer spending," Williamson said.
Output growth was fueled by new orders, according to the report. Optimism about the outlook for the year ahead jumped to its highest level since data collection started in 2012. Growth in Germany was led by manufacturing while France's expansion was driven by services.