EghtesadOnline: Russia's deal with OPEC has bolstered state coffers by putting a floor under crude prices, but it's also had one unintended consequence: depressing output in the nation's West Siberian oil heartlands.
With the Kremlin offering lower tax rates for new projects in the Caspian and East Siberia, Rosneft PJSC, Lukoil PJSC and other producers have looked elsewhere for the cuts that will allow Russia to comply with 300,000 barrels-a-day of production curbs. That means the Soviet-era fields of West Siberia, according to Bloomberg.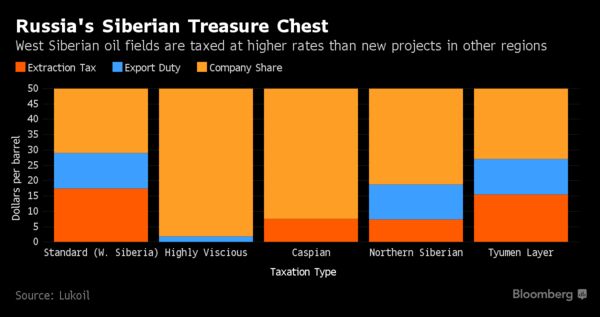 "West Siberian output is the first to go under knife," said Alexander Kornilov, an oil analyst at Aton. "These are the least profitable barrels."
Since Russia joined forces with the Organization of Petroleum Exporting Countries, futures have rebounded from last year's lows and the exporters have been able to earn more while pumping less. The nation, which relies on energy for more than 40 percent of its budget, saw revenue from oil and natural gas taxes recover to two-year highs in February and March thanks to the pact.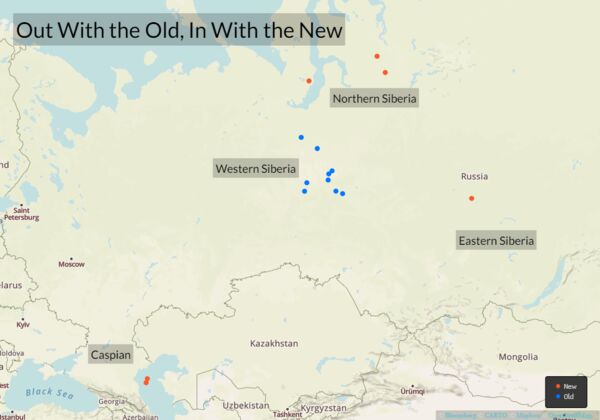 After pledging in December to reduce production by 300,000 barrels a day from a post-Soviet record of 11.247 million in October, Russia agreed with OPEC last Thursday to extend the landmark deal. Output in the country's oil heartland is falling fastest, with first-quarter production at Rosneft's largest Yugansk unit dropping 4.2 percent from the preceding three months.
Total Russian production will remain little changed at 547 million tons this year, according to Energy Minister Alexander Novak. The balance will come from Caspian, East and Northern Siberian deposits, offsetting the declines in West Siberia.
Barrels with tax discounts will jump 74 percent this year to 43.1 million tons, or 866,000 barrels a day, according to research by Bank of America Merrill Lynch analyst Karen Kostanian. That could increase to 80.9 million tons by the end of 2020 as overall Russian output increases, he said.
While that production puts some pressure on the Kremlin's budget, it pales beside lost revenues of more than $10 billion should oil drop by $5 a barrel, according to Alexander Burgansky, an analyst at Renaissance Capital.
Pricing Trade-Off
"With tax savings of up to 90 percent for new projects, the displacement of West Siberian barrels can cost the Russian budget up to $25 a barrel, or $2.7 billion per annum," said Burgansky. "This seems a low price to pay for price stability."
Russia maintains its oil-price outlook at $50 to $60 on average for this year, Novak said. Brent crude traded at $51.17 a barrel as of 7:15 a.m. in London on Thursday.
The Russian Finance Ministry remains philosophical, seeing the shift away from West Siberia as a natural process.
"This is standard practice when falling output at tapped fields are compensated by the development of new fields," Alexey Sazanov, director of tax and customs department at the Finance Ministry said by email. "All these new fields will sooner or later become old and their tax burden will shift to West Siberian levels."
Higher Margins
In the meantime, Russian producers continue to shift investment to higher-margin barrels. Lukoil is pushing ahead with investments in the Caspian, where its Filanovsky field is subject to a combined extraction and export tax rate of 15 percent, assuming a crude price of $50. That compares with a rate of 58.1 percent for standard Russian fields.
The government will use the beneficial environment created by the OPEC deal extension to replenish its reserves, Finance Minister Anton Siluanov said in an email.
Over the longer term, budget revenues from oil are projected to drop 2 percent every six years, said Former Finance Minister Alexey Kudrin, who still advises Russian President Vladimir Putin. That would have been the case even before the deal with OPEC, which Kudrin stresses is a short-term arrangement.
Ironically, the speed of the decline in West Siberia will be determined in part by another decades-old oil heartland thousands of miles away -- the Permian basin in Texas, where shale producers continue to ramp up output.
"Higher oil production elsewhere, such as the U.S., can lead to excess oil supplies and price declines despite Russia-OPEC efforts," said Burgansky. "In this case, the Russian budget will lose twice."