EghtesadOnline: U.S. stocks limped into the weekend on a sluggish final day of trading, while the dollar fluctuated with oil as investors assessed data showing the U.S. economy on firm footing.
The S&P 500 Index fluctuated between gains and losses before closing higher by less than a point -- good enough for a seventh straight gain and fresh record in trading 25 percent below the 30-day average. The dollar capped a weekly advance as a second reading on gross domestic product topped estimates. Crude headed for a weekly loss after OPEC's move to prolong supply cuts for nine months disappointed investors hoping for more. The pound fell as a poll showed U.K. Prime Minister Theresa May losing ground to her main opponent ahead of next month's election, Bloomberg reported.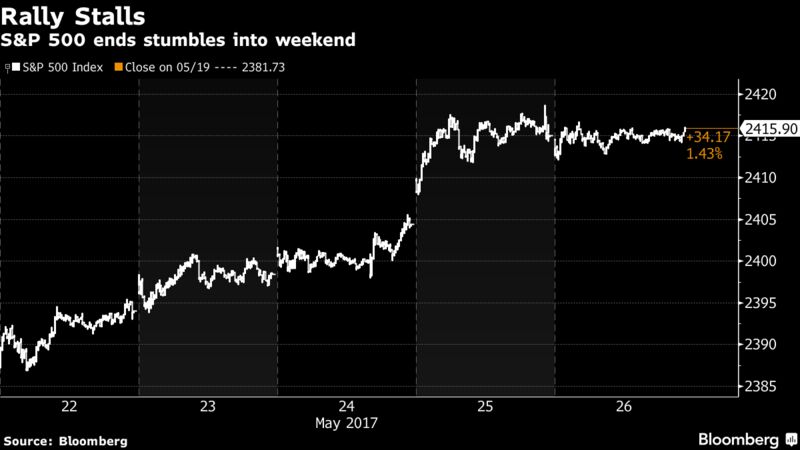 Action was subdued ahead of a three-day weekends in the U.S. and the U.K. A second straight month of stagnant orders for business equipment in April indicated investment in capital goods could slow in the second quarter, paring weekly gains in U.S. stocks. Crude languished below $50 a barrel, while U.K. investors awakened to election risk after a poll showed the Conservative party lead narrowed after the Manchester attack.
"Markets ultimately found the renewed deal among OPEC and friends underwhelming," Cole Akeson, a strategist at Sberbank CIB in Moscow, wrote in an emailed note. "Essentially, the market consensus seems to have come around to a view that regardless of what effect on global inventories the deal may have for now, OPEC and its partners have little insight as to what to do later on."
Here are the main moves in markets:
Stocks
The S&P 500 rose less than one point to 2,415.62 as of 4 p.m. in New York. The seven-day streak is the longest since February. The measure climbed 1.4 percent in the week, the most since April 28.
The Stoxx Europe 600 Index dropped 0.2 percent, with oil and gas producers falling 1.1 percent. Automakers slid 0.5 percent.
MSCI's emerging-market index added 0.1 percent, pushing its gain in the five days to 2 percent.
Currencies
The Bloomberg Dollar Spot Index added 0.1 percent after falling as much as 0.2 percent. It's up 0.1 percent on the week.
The pound slid 1.2 percent to $1.2793. A YouGov poll for the Times late Thursday put the Conservatives at 43 percent with Labour at 38 percent -- a dramatic narrowing of the gap that even this month has been as high as 24 points in some polls.
The yen rose 0.6 percent to 111.198 per dollar, after dropping 0.3 percent on Thursday.
The euro fell 0.3 percent to $1.1175.
Commodities
West Texas Intermediate crude rose 1.8 percent to settle at $49.80 a barrel. The contract plunged 4.8 percent in the previous session. Crude lost more than 1.5 percent in the week.
Gold futures rose 0.8 percent to $1,270.10 an ounce.
Copper dropped from a three-week high as traders turned bearish ahead of holidays and the dollar recovered.
Bonds
The yield on 10-year Treasury notes fell one basis point to 2.25 percent. U.S. bonds are on course for a fourth month of gains.
Benchmark German and French yields dropped three basis points.
Asia
Japan's Topix slipped 0.6 percent, trimming its weekly advance to 0.6 percent.
Australia's S&P/ASX 200 Index fell 0.7 percent, with BHP Billiton Ltd. dropping 2 percent.
South Korea's Kospi rose 0.5 percent to another record. The index is up 2.9 percent for the week, the biggest gain in two months.
Hong Kong's Hang Seng Index was flat, keeping its weekly gain at 1.8 percent, while the Shanghai Composite increased 0.1 percent.