EghtesadOnline: The yen rose and U.S. equity-index futures fell as investors took a cautious approach amid the latest reports on the Trump administration and a suspected terrorist attack in the U.K.
The Japanese currency rose against all its major peers and S&P 500 futures dropped after the Washington Post reported Donald Trump asked intelligence chiefs to publicly deny any collusion between his campaign and Russia. The pound slipped after U.K. police said they are treating a blast that resulted in at least 19 deaths at a concert in Manchester as possible terrorism. The Mexican peso slid after S&P said it may cut Brazil's sovereign credit rating. Noble Group Ltd. shares plunged amid concerns over a default.
According to Bloomberg, political wrangling in Washington returned to the fore, taking the focus away from global economic growth. The U.S. president in March asked Director of National Intelligence Daniel Coats and NSA Director Michael Rogers to publicly deny existence of any collusion between his campaign and the Russian government, the Washington Post reported, citing unidentified current and former officials.
U.K. police said at least 19 people were killed in a suspected terrorist attack at an Ariana Grande concert in Manchester, northern England, which would be the worst such incident on British soil since the London bombings of 2005. The blast happened in the middle of an election campaign and came two months after a lone attacker left five people dead outside the Houses of Parliament in London.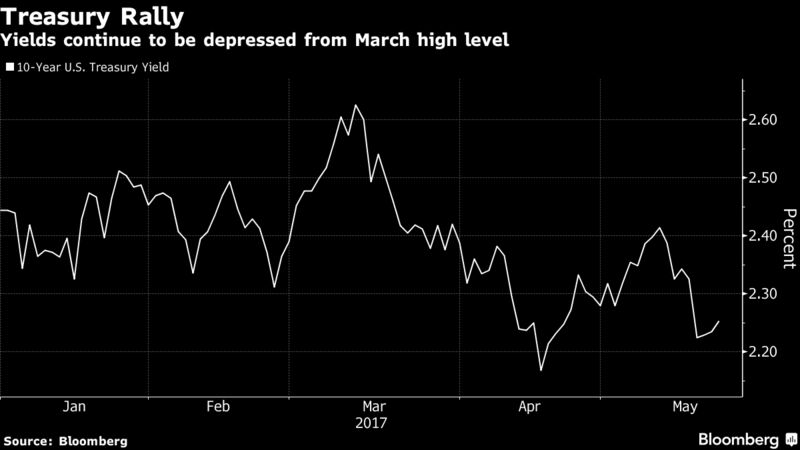 Here are some key upcoming events:
Singapore and Hong Kong will release CPI numbers, while Taiwan has industrial output.
In Europe, there is Germany's Ifo report and French business confidence data.
South Korea, Canada, South Africa and Thailand set interest rates this week.
A key OPEC decision will be made in Vienna on Thursday.
Here are the main moves in markets:
Stocks
Futures on the S&P 500 fell 0.1 percent as of 11:30 a.m. in Tokyo. The underlying gauge rose 0.5 percent on Monday. The index has climbed 1.6 percent in three days following a 1.8 percent rout last Wednesday and sits just 0.4 percent from an all-time high.
Japan's Topix was flat after swinging between gains and losses. Australia's S&P/ASX 200 Index slipped 0.1 percent. South Korea's Kospi rose 0.7 percent.
Hong Kong's Hang Seng climbed 0.2 percent. The Shanghai Composite Index was flat.
Futures on the U.K.'s FTSE 100 Index gained 0.1 percent.
The selloff in Brazilian assets resumed on Monday. The NEXT Funds Ibovespa Linked Exchange Traded Fund, an equity ETF that tracks Brazil's benchmark index, slumped 3.9 percent in Tokyo trading Tuesday.
Noble Group plunged 28 percent in Singapore as S&P said the embattled commodity trader could default on its debt over the next year as it spirals further into distress.
Currencies
The yen rose 0.2 percent to 111.12 per dollar.
The pound slid less than 0.1 percent to $1.2992.
The Mexican peso dropped 0.1 percent. S&P Global Ratings said it may cut Brazil's rating as the nation's fiscal adjustment is at risk of stalling amid political uncertainty following allegations against President Michel Temer.
The Bloomberg Dollar Spot Index dropped less than 0.1 percent, trading at the lowest level since November.
Bonds
The yield on 10-year Treasury notes fell two basis points to 2.24 percent.
Yields on Australian government debt with a similar maturity lost four basis points to 2.45 percent.
Commodities
WTI crude fell 0.4 percent to $50.94, after jumping above $51 per barrel on Monday.
Gold added 0.1 percent to $1,262.27 an ounce, for a third day of gains.