EghtesadOnline: Crude oil climbed toward $51 a barrel and Asian stocks advanced, helped by a rise in energy producers amid speculation cuts to crude supplies will be extended further. The yen declined after a volatile week for financial markets.
Stocks from Sydney to Hong Kong rose, with energy and raw-materials shares posting the biggest moves on the MSCI Asia Pacific Index. Saudi Arabia's energy minister said all producers participating in a deal to limit output agree on extending the cuts by nine months. The won surged even after North Korea conducted another ballistic missile test on Sunday. The pound fell as the U.K. threatened to exit talks on its departure from Europe.
According to Bloomberg, global equities are close to a record as investors bet global growth can withstand political turmoil in the U.S. and Brazil, as well as further increases in interest rates. Money managers will be scrutinizing minutes released this week from the Federal Reserve's latest meeting, with a more than 80 percent chance that rates will go up again next month.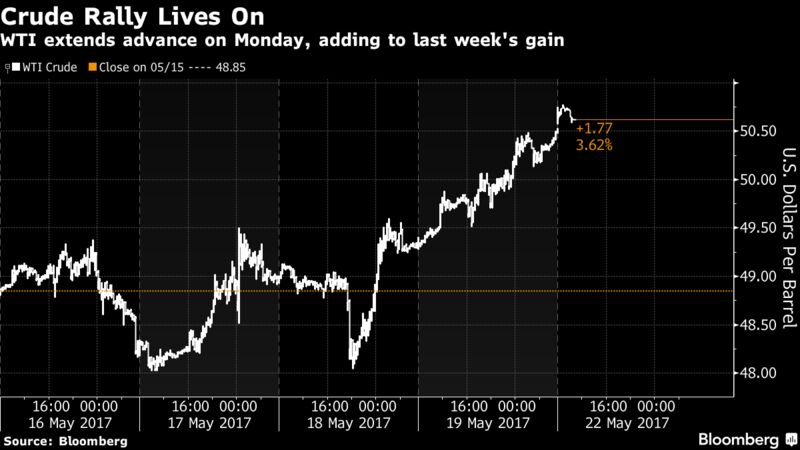 The Republican chairman of the House Oversight and Government Reform Committee said he'll talk to James Comey on Monday and is pursuing any records of President Donald Trump's meetings with the fired Federal Bureau of Investigation director. Trump continues his trip in the Middle East, where U.S. companies signed multi-billion dollar deals in the defense, energy and infrastructure industries.
"With Trump on a tour, the hope is we see less news over the next couple of days -- a chance for the waters to settle," said Andrew Sullivan, a managing director for sales trading at Haitong International Securities Group Ltd. in Hong Kong. "It's another overhang on the market. We've got all these markets trading at highs and people don't want to miss out, but they don't want to be caught out."
In Brazil, President Michel Temer suffered a setback in trying to fend off allegations of corruption and cover-up after the country's influential bar association voted in favor of his impeachment. The controversy sparked the biggest weekly selloff on the country's benchmark equity index in five years.
Here are the key events investors will be on the lookout for:
Brazil's central bank on Monday will release a survey of economists' forecasts for the nation's key interest rate as traders trim bets on a larger-than-average rate cut for its meeting at the end of this month.
Fed officials Patrick Harker and Neel Kashkari are both scheduled to speak Monday.
Minutes from the May 3 Fed policy meeting will be released Wednesday.
A key OPEC decision will be made in Vienna on Thursday. OPEC and its allies agree on extending oil output cuts by nine months, according to Saudi Arabia's energy minister.
Here are the main moves in markets:
Currencies
The Bloomberg Dollar Spot Index advanced 0.1 percent as of 12:42 p.m. in Tokyo, after its worst weekly performance since July. The yen fell 0.2 percent to 111.47 per dollar, after strengthening as much as 2 percent last week.
The Aussie fell 0.2 percent to 74.47 U.S. cents.
The won jumped 0.9 percent, erasing almost all its losses over the previous three sessions. South Korean President Moon Jae-in turned to a long-time public official for his finance chief as he named key advisers and cabinet posts.
The pound lost 0.3 percent to $1.3004. EU ministers meet in Brussels on Monday to discuss their Brexit negotiating position after the U.K. threatened to quit talks on its departure unless the bloc drops its demands for a divorce payment as high as 100 billion euros ($112 billion).
The euro slipped 0.1 percent to $1.1195.
Commodities
Crude climbed 1.1 percent to $50.84 per barrel, extending a 2 percent advance Friday. Oil is trading at the highest levels in a month.
Gold slid 0.2 percent to $1,253.50 an ounce. The metal jumped 2.2 percent last week.
Stocks
Japan's Topix index rose 0.5 percent. The measure lost 1.3 percent last week. Australia's S&P/ASX 200 Index climbed 0.8 percent and South Korea's Kospi index advanced 0.4 percent.
Hong Kong's Hang Seng climbed 0.9 percent and the Hang Seng China Enterprises Index jumped 1.1 percent. The Shanghai Composite slipped 0.2 percent.
Futures on the S&P 500 rose 0.1 percent after the underlying gauge increased 0.7 percent Friday. Friday's climb was curbed by reports that investigators are focused on a current White House official as a person of interest in the Russia probe.
Bonds
Ten-year Treasury yields rose two basis points to 2.25 percent. Treasuries had their best week in a month last week.
The yield on Australian government notes with a similar maturity rose two basis points to 2.49 percent.