EghtesadOnline: Financial markets ended a volatile week with a final bout of turbulence as Donald Trump's troubles intensified Friday, raising fresh questions on his administration's ability to enact its policy agenda.
The S&P 500 Index cut its gain by almost half after news emerged that investigators are focusing on a current White House official as a person of interest in their probe of Russian influence on the election, intensifying the political turmoil that's gripped Washington for weeks. The 10-year Treasury note all but erased an advance, while the dollar held its worst slide since March. Gold capped its best week in a month, Bloomberg reported.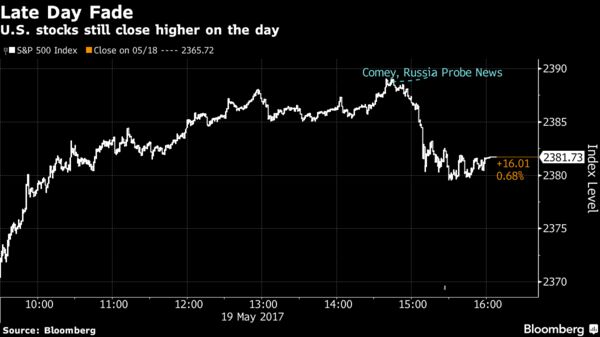 The reports rekindled concern that Trump's political woes will ensnare the administration's plans for tax cuts and infrastructure spending, concern that on Wednesday sent the S&P 500 to its biggest loss of the year. Markets had been mostly sanguine about developments in Washington until then, with the equity benchmark reaching a record Tuesday.
Nerves had calmed in the ensuing days, with the S&P 500 Index almost erased a loss for the week earlier Friday amid strong corporate results and a rally that took crude above $50 a barrel. Risk sentiment was also helped by better-than-expected U.S. jobless claims and regional manufacturing data Thursday.
What investors will be watching:
Trump embarked on his first foreign trip as president, heading to Riyadh on overnight Friday, at the invitation of Saudi King Salman bin Abdulaziz. After Saudi Arabia, Trump visits Tel Aviv and Rome before heading to a NATO summit in Brussels and the G-7 meeting in Sicily.
Here are the major moves in the markets:
Stocks
The S&P 500 rose 0.7 percent at 4 p.m. in New York, paring a gain that reached 1 percent. The index fell 1.8 percent Wednesday and lost 0.4 percent in the week, the worst performance since April.
Deere & Co. surged 7.3 percent after the biggest maker of agricultural machinery's profit forecast exceeded all expectations. Autodesk Inc. advanced 15 percent.
The Stoxx Europe 600 Index rose 0.6 percent, paring its weekly loss to 1.1 percent.
Currencies
The Bloomberg Dollar Spot Index fell 0.6 percent, erasing Thursday's increase. The gauge lost 1.6 percent in the five days, the worst week since July 2016.
The euro strengthened 0.7 percent to $1.1204, bringing its gain this week to 2.5 percent. The British pound stood 0.5 percent higher at $1.3002.
The yen rose 0.3 percent to 111.173 per dollar after falling 0.6 percent on Thursday. The currency is up 2 percent for the week, its strongest performance in a month.
The South African rand climbed 1.4 percent after tumbling 2.6 percent over the previous two sessions. Russia's ruble strengthened 0.8 percent as oil prices rose.
Bonds
The yield on 10-year Treasuries climbed less than one basis point to 2.23 percent, after rising as much as three basis points earlier in the session. It fell nine basis points this week.
Commodities
West Texas crude rose 2.1 percent to settle at $50.37 a barrel in New York, for a weekly increase of 5.3 percent, the most since March.
Optimism is growing that OPEC will reaffirm efforts to drain a global glut at their meeting in Vienna on May 25.
Gold futures settled 0.1 percent higher at $1,253.60 an ounce, pushing the gain in the week to 2.1 percent, the most since April 14.
Copper rose 1.8 percent to $5,682 a ton in London, leading most industrial metals higher as sentiment steadied after strong U.S. jobs data.