EghtesadOnline: Growing concerns over the turmoil engulfing President Donald Trump's administration weighed on risk appetite, boosting the yen and gold and sending U.S. stock futures lower.
S&P 500 Index contracts declined with equities across Asia on reports that Trump asked FBI Director James Comey to drop an investigation into former National Security Adviser Michael Flynn. The dollar was already in retreat after a report that the U.S. president shared terrorism intelligence with Russian officials, an action he has since defended. The Bloomberg Dollar Spot Index dropped for a sixth day, crude extended losses and volatility indexes climbed.
"At the very least the view is that Trump's economic policies will be delayed over this, and the dollar is being sold," said Tomoichiro Kubota, an analyst at Matsui Securities Co. in Tokyo. "At the moment there's a strong sense of investors trying to gauge how far this will go. It's a situation where you can't completely rule out the possibility of impeachment down the road, so it's difficult for investors to buy."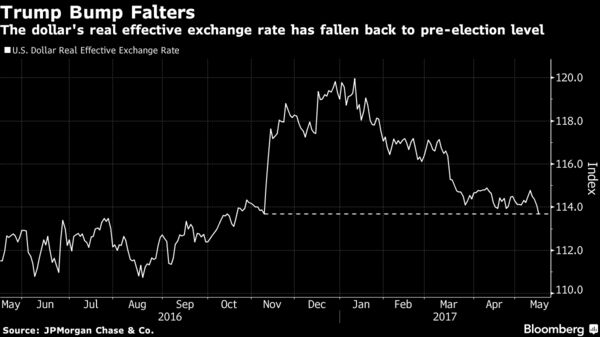 According to Bloomberg, after a protracted period of dormancy, financial markets are beginning to react to developments in Washington in a more unison manner. With stock and bond volatility muted, investors have looked for a clearer reaction to the political din in currency markets. The U.S. currency now sits at its lowest level since the day of Trump's shock win, a retracement some blame on perceptions his legislative agenda faces a steeper climb.
Even here, though, traders have been divided on what is moving the U.S. currency, with some seeing catalysts beyond politics. One explanation for the retreat might be weaker-than-expected readings on U.S. inflation and economic growth in the past month, data that have coincided with easing perceptions of political and economic risks in Europe. While traders continue to price in two interest rate increases by the Federal Reserve this year, speculation is rising that European counterparts are preparing to withdraw their own stimulus measures.
"There's a tremendous disconnect between a very volatile Washington and a very non-volatile New York," John Manley, chief equity strategist at Wells Fargo Funds Management, said in an interview on Bloomberg TV.
Here are some key events coming up:
OPEC's internal Economic Commission Board meets in Vienna to discuss the market in preparation for the group's formal meeting on May 25. The U.S. Energy Information Administration is projected to report that crude stockpiles declined by 2.67 million barrels in the week ended May 12, according to a Bloomberg survey of analysts.
Wednesday's U.K. labor report may reveal pay rose 2.1 percent, down from 2.2 percent.
Data from Japan on Thursday will likely show the economy accelerated in the first three months of the year, posting a fifth straight quarter of expansion. That would be the longest consecutive period of growth since 2005-2006.
Here are the main moves in markets:
Currencies
The yen rose 0.6 percent to 112.41 per dollar as of 2:56 p.m. in Tokyo, after climbing 0.6 percent on Tuesday. The Bloomberg Dollar Spot Index dropped 0.2 percent, trading at the lowest level since Nov. 9.
The euro rose 0.2 percent to $1.1107, extending Tuesday's 1 percent surge.
Stocks
Futures on the S&P 500 Index fell 0.6 percent, after the underlying gauge on Tuesday touched an all-time high of 2,405.77. The Stoxx Europe 600 Index closed little changed.
Japan's Topix slid 0.5 percent, while Australia's S&P/ASX 200 Index lost 1.1 percent, with banks having the biggest impact on both markets. South Korea's Kospi index fell 0.2 percent and Singapore's Straits Times Index declined 0.4 percent.
The Shanghai Composite Index dropped 0.2 percent, while the Hang Seng declined 0.1 percent. Chinese shares traded in Hong Kong fell 0.5 percent.
A volatility gauge on the Nikkei 225 Stock Index increased the most in a month, a day after the equities benchmark came within 2 points of topping 20,000. A similar volatility measure on the S&P 500 rose 2.2 percent on Tuesday.
Bonds
The yield on 10-year Treasuries slipped three basis points to 2.29 percent after dropping two basis points Tuesday.
Yields on Australian government notes with a similar maturity sank six basis points to 2.52 percent.
Commodities
Gold rose 0.5 percent to $1,243.53 an ounce, extending gains to a fifth day.
Oil lost 0.9 percent to $48.24 a barrel. Industry data showed an unexpected increase in U.S. crude stockpiles, stalling a rally driven by Saudi Arabian and Russian pledges to extend supply cuts.