EghtesadOnline: Saudi Arabia and Russia said they favor extending oil-output cuts by global producers through the end of the first quarter of 2018 to shrink a market glut. Crude prices jumped.
Extending the curbs at already agreed-upon volumes is needed to reach the goal of reducing global inventories to the 5-year average, the energy ministers of the world's biggest oil producers said in a joint press conference in Beijing. They will present their position at a meeting of OPEC and other nations that are part of the agreement on May 25 in Vienna, according to Bloomberg.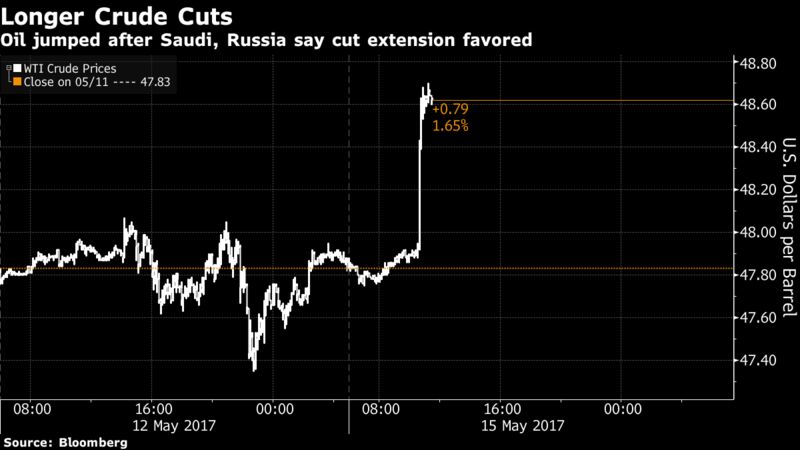 Russia and Saudi Arabia, the largest of the 24 nations that agreed to cut production for six months starting in January, are reaffirming their commitment to the deal amid growing doubts about its effectiveness. Surging U.S. production has raised concern that the Organization of Petroleum Exporting Countries and its partners are failing to reduce an oversupply. Oil has surrendered most of its gains since their deal late last year.
"The agreement needs to be extended as we will not reach the desired inventory level by end of June," Saudi Arabia's Khalid Al-Falih said during the event with Russia's Alexander Novak. "Therefore we came to the conclusion that ending will probably be better by the end of first quarter 2018."
Oil futures jumped as the ministers spoke. U.S. West Texas Intermediate added as much as 1.8 percent to $48.70 a barrel on the New York Mercantile Exchange, the highest since May 2. Global benchmark Brent crude added 1.7 percent to $51.69 on the ICE Futures Europe exchange.
As OPEC and its allies curbed supply, production in the U.S., which is not part of the agreement, has risen to the highest level since August 2015 as drillers pump more from shale fields. But American crude inventories are showing some signs of shrinking, falling for the past five weeks from record levels at the end of March.
OPEC members agreed in November to cut 1.2 million barrels a day of oil production, and several non-members, including Russia, agreed in December to contribute a combined 600,000 barrels a day of output reductions.
"Preliminary consultations show that everybody is committed" to the output agreement and no country is willing to quit, said Novak. "I don't see reasons for any country to quit."