EghtesadOnline: Saudi Arabia and Russia signaled they could extend production cuts into 2018, doubling down on an effort to eliminate a supply surplus just as its impact on prices wanes.
In separate statements just hours apart on Monday, the world's largest crude producers said publicly for the first time they would consider prolonging their output reductions for longer than the six-month extension widely expected to be agreed at the OPEC meeting on May 25.
According to Bloomberg, ministers from some members of the Organization of Petroleum Exporting Countries have also discussed the possibility of deepening the supply curbs, said four delegates, who asked not to be identified because the talks were private. The delegates didn't say that the discussions resulted in any kind of agreement for additional cuts.
Russia is ready to support extending the oil deal beyond 2017, the nation's Energy Ministry said. "We are discussing a number of scenarios and believe extension for a longer period will help speed up market rebalancing" Minister Alexander Novak said in a statement.
Speaking in Kuala Lumpur earlier Monday, his Saudi counterpart Khalid Al-Falih said he was "rather confident the agreement will be extended into the second half of the year and possibly beyond" after talks with other nations participating in the accord.
Russia and Saudi Arabia, the largest of the 24 nations that agreed to cut production, are reaffirming their commitment to the deal amid growing doubts about its effectiveness. Surging U.S. production has raised concern that OPEC and its partners are failing to reduce an oversupply. Oil has surrendered most of its gains since their deal late last year.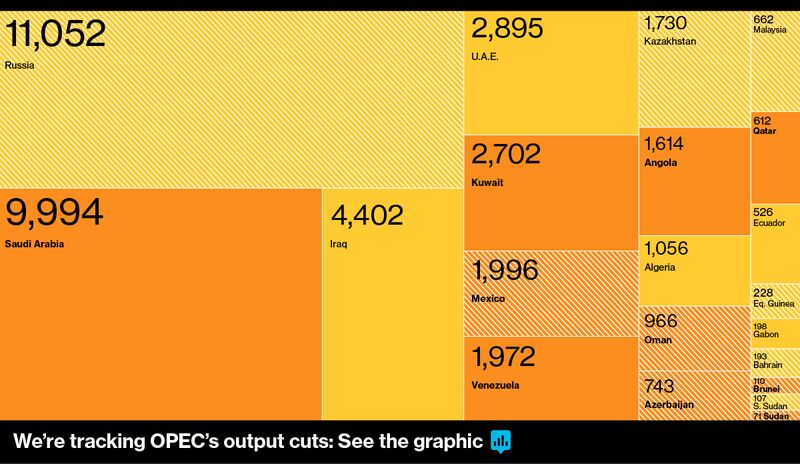 Determined Coalition
"The producer coalition is determined to do whatever it takes to achieve our target of bringing stock levels back to the five-year average," Al-Falih said. While U.S. shale output growth and the shutdown of refineries for maintenance have slowed the impact of cuts by OPEC and its partners, the Saudi minister said he's confident the global oil market will soon rebalance and return to a "healthy state."
Oil producers almost have an agreement to extend the cuts for six months or more, Kuwait's Oil Minister Issam Almarzooq said in emailed statement. Algeria supports prolonging the agreement beyond 2017, said Energy Minister Noureddine Boutarfa.
As OPEC and its allies curbed supply, production in the U.S., which is not part of the agreement, has risen to the highest level since August 2015 as drillers pump more from shale fields. But American crude inventories are showing some signs of shrinking, falling for the past four weeks from record levels at the end of March.
"We need to see the OPEC/non-OPEC deal extended to 2018, otherwise there's a risk oil prices will fall below $40," Alexandre Andlauer, an analyst at AlphaValue SAS in Paris, said by email. "We will have to wait two years to get a stable Brent oil price at around $55."