EghtesadOnline: Gold futures had the biggest weekly loss since Donald Trump was elected president as better-than-expected U.S. jobs data further eroded demand for the metal as a haven.
Payrolls increased by 211,000, topping the 190,000 median estimate of economists surveyed by Bloomberg, a government report showed Friday. The jobless rate unexpectedly fell to 4.4 percent, indicating that the labor market remains healthy and should support continued increases in consumer spending.
According to Bloomberg, signs of stability and growth have kept gold under pressure most of the week, with the metal crashing below its 200-day moving average. On Wednesday, Federal Reserve officials signaled they view a recent slowdown in U.S. economic growth as temporary and will stay on a gradual path of policy tightening.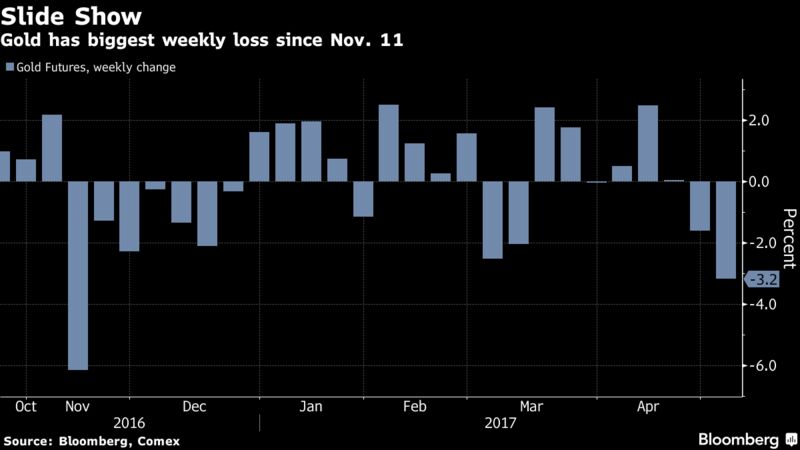 "The data has shown that there is momentum in the economy," Naeem Aslam, the chief market analyst at Think Markets U.K. Ltd. "It appears that the Fed is on the correct side of the trade."
Gold futures for June delivery fell 0.1 percent to settle at $1,226.90 an ounce at 1:41 p.m. on the Comex in New York. For the week, the metal lost 3.3 percent, the biggest drop since Nov. 11.
While the U.S. unemployment rate is now the lowest since May 2007, wages were a soft spot in the report, climbing 2.5 percent from a year earlier.
"It was mostly a good report, which will likely have prompted most people to think the Fed is on, so that would apply downside pressure on gold," Bart Melek, head of commodity strategy at TD Securities in Toronto, said in a telephone interview.
In other precious metals:
Silver futures had a 14th straight decline, the longest slump since 1980.
Platinum and palladium futures climbed on the New York Mercantile Exchange.