EghtesadOnline: Crude plunged to a six-month low, erasing gains sparked by OPEC's November output agreement, as concerns over a supply glut mounted. Earnings kept U.S. stocks afloat, while Treasuries slid with the dollar.
West Texas Intermediate crude fell almost 5 percent, plunging below $46 a barrel. The S&P 500 Index was virtually unchanged as American International Group Inc. led gains among insurers to offset a rout in energy producers. Gold posted the biggest two-day drop of the year. Health-care companies rose as the House of Representatives voted to replace Obamacare. Treasury yields headed higher, according to Bloomberg.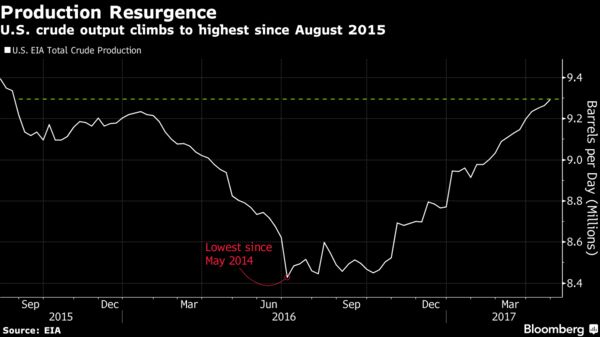 The Republican House victory now sends the bill to the Senate, where it has little chance of being passed in its current form, though it provides President Donald Trump with a rare legislative victory. Investors will focus on Friday's U.S. jobs report for signs the economy picked up steam after a sluggish start to the year. Crude's latest swoon rekindled concern that global growth remains limp even as corporate earnings in Europe and the U.S. top expectations.
"Stocks have faced several hurdles already to start the month, including poor auto sales and disappointing revenue from Apple," Gina Martin Adams, chief equity strategist at Bloomberg Intelligence, wrote Thursday. "Yet continued declines in commodities may be a tipping point. Metals have been a leading indicator of stock prices for much of the last year."
Here are key events and data releases due:
Economists forecast the U.S. added 190,000 jobs last month as the government reports hiring data at 8:30 a.m. in New York.
Voters in France go to the polls Sunday for the second round of presidential elections.
Here are the main moves in markets:
Stocks
The S&P 500 Index rose 0.1 percent to 2,389.49 at 4 p.m. in New York. The measure hasn't moved more than 0.2 percent in either direction for seven straight sessions as it's advance toward an all-time high has stalled.
Caterpillar Inc. and Chevron Corp. led declines in the Dow Jones Industrial Average, with losses that topped 1.9 percent.
Facebook Inc. slipped 0.7 percent after its results disappointed, while AIG added 1.9 percent.
The Stoxx Europe 600 Index advanced 0.7 percent, while the FTSE 100 jumped 0.4 percent.
Commodities
West Texas Intermediate oil fell 4.8 percent to settle at $45.52 a barrel. Signs mounted that OPEC's production cuts are failing to clear a surplus of crude.
Brent dropped 4.8 percent to $48.38 a barrel, falling below $50 for the first time since March 22.
Gold posted the biggest two-day loss since December as traders speculate the jobs report will bolster the case for raising interest rates.
Futures fell 2.6 percent to settle at $1,228.60 an ounce.
On the Dalian Commodity Exchange, ore for September delivery lost 7.3 percent, the maximum daily drop allowed, while in Singapore, SGX AsiaClear futures fell as much as 9.1 percent to $60.37 a ton.
Copper futures dropped 1.4 percent, extending Wednesday's worst tumble since 2015.
Currencies
The Russian ruble slumped the most in emerging markets as Brent fell below $50 a barrel. Canada's dollar also took a hit from crude.
The Bloomberg Dollar Spot Index slipped 0.2 percent, after gaining 0.4 percent Wednesday.
The euro added 0.9 percent to $1.0985, while the pound gained 0.4 percent.
The yen rose 0.3 percent to 112.385 per dollar.
Bonds
Yields on 10-year Treasuries rose three basis points to 2.35 percent, the highest since April 10. Two-year yields topped 1.30 percent for the first time since March 22.
Government bonds in Europe declined, with the yield on German bunds due in a decade jumping six basis points to 0.39 percent.