EghtesadOnline: Asian stocks climbed with U.S. futures, bonds retreated and the yen erased gains as U.S. Congress negotiators reached a tentative deal to avert a shutdown of government this week.
The MSCI Asia Pacific Index rose, after capping a fourth straight month of gains on Friday. Japanese shares advanced after its best week of the year. The yen weakened for the fifth day out of six, while Treasuries retreated with gold. Oil climbed from its lowest level in a month, Bloomberg reported.
U.S. House and Senate negotiators reached a tentative bipartisan agreement Sunday night on a $1.1 trillion bill to keep the government open through the end of September, according to Republican and Democratic aides. The news triggered a swing in markets Monday morning in Asia after equities and currencies' traders had been loath to take additional risk ahead of a busy week for macro-economic events and data.
"It's a good thing a tentative deal was reached without too much trouble," says Naoki Fujiwara, chief fund manager at Shinkin Asset Management Co. in Tokyo. "It seems that we're able to put behind some of the things that the market's recently been worried about. But U.S. economic data on jobs and the GDP is reason for caution."
Trading volumes may be lower than average due to the Labor Day or May Day holiday in many countries, including China, India, Russia, U.K., Hong Kong, Germany, Singapore and Mexico. Later on this week Japan will be closed for a three-day holiday.
China data from the weekend showed a decline in manufacturing and services sectors. That followed weaker-than-expected U.S. growth in the first quarter, casting doubts on the strength of the global expansion after optimism on the economy and earnings pushed stocks to records last month.
Investors will be watching comments from a policy meeting of the Federal Open Market Committee this week and the monthly U.S. employment report on Friday, with the second round of the French presidential election on May 7. Traders are also weighing the possibility of escalating tension between the U.S. and North Korea.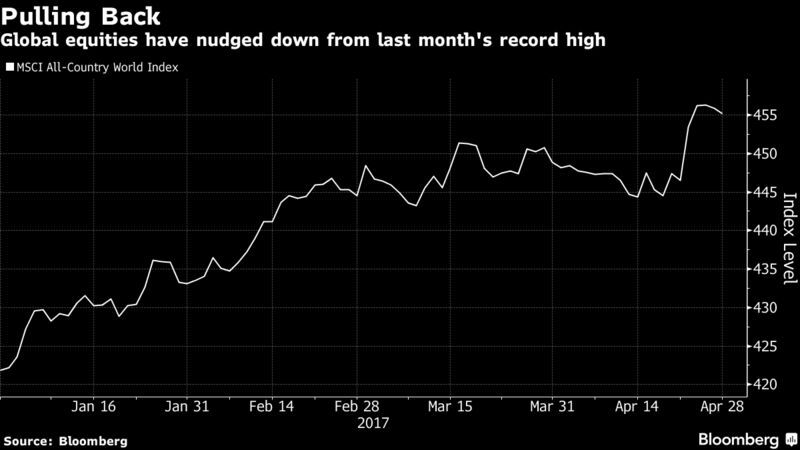 Here are the main events and data releases coming up this week:
Personal spending data is due Monday from the U.S. as well as a read on ISM manufacturing for April. That comes ahead of key monthly non-farm payrolls data due Friday.
Australia will deliver a monetary policy decision Tuesday. The benchmark interest rate will remain unchanged at 1.5 percent for a ninth month, money markets bet and economists predict, after data last week showed inflation creeping higher.
Caixin manufacturing and services data for China are due on Tuesday and Thursday.
The second round of France's presidential vote takes place May 7 and Emmanuel Macron leads by a significant margin in recent polling.
Here are the main moves in markets:
Currencies
The yen fell 0.1 percent to 111.65 per dollar as of 11:52 a.m. in Tokyo, erasing an earlier gain of 0.3 percent. The currency last week had the biggest slide since the Fed raised U.S. rates in December.
The Bloomberg Dollar Spot Index added 0.1 percent. gaining 0.3 percent against the British pound.
The Aussie dollar lost 0.1 percent to 74.82 U.S. cents. An Australian gauge of manufacturing climbed to the second-highest level since May 2002.
Stocks
Japan's Topix index rose 0.3 percent, after climbing 2.9 percent last week, its best performance of the year.
Australia's S&P/ASX 200 Index was flat, with volume down about 26 percent. New Zealand's S&P/NZX 50 Index advanced 0.2 percent.
Futures on the S&P 500 Index increased 0.1 percent after the underlying gauge posted a 1.5 percent advance to close out the final week of April.
Commodities
Gold dropped 0.3 percent to $1,264.18 an ounce, after climbing 0.3 percent on Friday. The metal dropped 1.3 percent last week.
West Texas Intermediate crude rose 0.2 percent to $49.28 a barrel. Oil lost 2.5 percent in April.
Bonds
Ten-year Treasury yields rose for the first time in three sessions, climbing one basis point to 2.29 percent.
The yield on Australian 10-year government bonds was flat at 2.57 percent.