EghtesadOnline: OPEC needs a year more to accomplish what's at the moment proving to be mission impossible, according to a veteran oil analyst.
Saudi Arabian oil minister Khalid Al-Falih acknowledged last week that the group and its allies, after three months of limiting output, have failed to hit their target of eroding oil inventories below the five-year historical average. The reductions need to be prolonged to not only until the end of 2017, but also extended through the first half of next year for the goal to be met, said Fereidun Fesharaki, the head of industry consultant FGE, according to Bloomberg.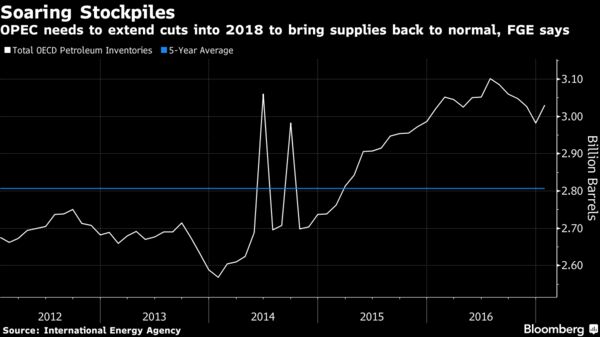 While the Organization of Petroleum Exporting Countries and its partners began cutting output in January as part of a six-month deal, International Energy Agency data show inventories rose during the first quarter in developed nations, offsetting a decline in emerging economies. The accord between OPEC, Russia and 10 other nations was intended to boost prices by eliminating a stockpile surplus of about 300 million barrels over the five-year average -- equivalent to three days of global oil production.
"All eyes are on inventories, as the market watches for signs of draws or builds in the coming months, but we're some way away from OPEC's target," said Fesharaki, who founded FGE more than three decades ago. "OPEC and non-OPEC producers need to extend cuts up until the first half of 2018 to reach their goal of bringing inventories under the five-year mark."
Stockpiles in the Organisation for Economic Co-operation and Development increased by 38.5 million barrels in the first quarter to about 3 billion barrels, the Paris-based IEA said in a report earlier this month. Supplies expanded because of production gains just before the deal between OPEC and its allies took effect, the agency said.
Prices of West Texas Intermediate crude, the U.S. benchmark, are down about 8 percent this year, and traded at $49.40 a barrel in New York by 2:11 p.m. Singapore time. That's less than half the level in mid-2014. Brent crude, the global marker, has fallen almost 9 percent in 2017 and was at $51.76 a barrel in London, compared with a peak of more than $115 in 2014.
U.S. Boom
Another headache for OPEC has been rising supplies from the U.S., which is not part of the production-cut agreement. American output climbed to 9.25 million a day in the week ended April 14, the highest since August 2015, while explorers added 5 oil rigs last week to cap the longest stretch of gains since 2011. Stockpiles in the nation are more than 100 million barrels above the five-year average for this time of the year.
Bloomberg calculations using IEA's supply and demand projections indicate that, by the time OPEC's accord expires in June, OECD stockpiles will be roughly back in line with their end-December level and still about 200 million barrels above the five-year average. That would leave the group, which must decide in May whether to extend its pact for another six months, well short of its goal.
"We've seen a drawdown of oil from floating, offshore inventories but onshore inventories are still building," said Fesharaki. "We need to see some significant declines in onshore inventories, otherwise the OPEC deal will need to be extended to next year.