EghtesadOnline: For Russian oil companies, the historic agreement to boost prices by cutting output in conjunction with the Organization of Petroleum Exporting Countries was an easy win. Extending the deal will be less straightforward.
Cuts so far this year came alongside the traditional seasonal stagnation in Russian production, meaning the country made relatively few sacrifices in exchange for an increase in crude prices of more than 10 percent. For the powerful Russian oil bosses who plan to discuss the OPEC accord with Energy Minister Alexander Novak this week, a decision by the government to extend the cuts beyond June would stymie plans to boost output, creating many more headaches than the initial agreement, according to Bloomberg.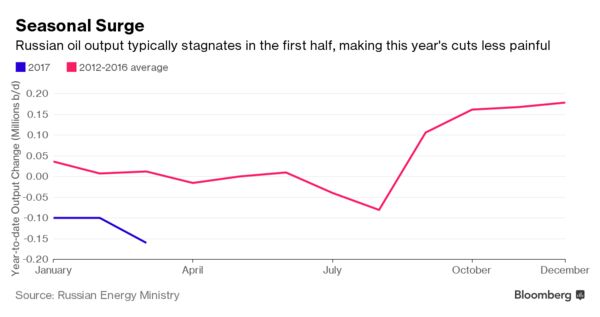 "It was not a surprise and not a big deal to have production going down in the first half of the year," James Henderson, a Russian oil expert at the Oxford Institute of Energy Studies, said by phone. "When you go into the second half it's a different story. All thoughts of production growth this year go out of the window."
After two years of low oil prices and competition for market share, OPEC and Russia made a surprise agreement late last year on the first coordinated production cuts in more than a decade. While the deal lifted international crude futures above $58 a barrel in January -- double the level a year earlier -- stubbornly high inventories and rising U.S. production have dragged prices back toward $50. That's prompted producers to consider extending the curbs beyond their initial six-month term.
Novak will hold talks with Russian oil companies this week before his meeting with OPEC and non-OPEC counterparts in Vienna on May 25. The minister said on April 21 that the issue of whether to prolong the deal was "under discussion" within Russia and would depend on "the market situation by the time when the current half-year agreement expires."
Analysts predict Russia will double down and prolong the cuts, despite the problems it could cause for its largest producers.
Winter Freeze
Russian production is typically flat or lower in the first half of the year, according to a report from analysts at Sberbank CIB. Compared with October 2016 levels, the nation would have seen an average decline of about 40,000 to 50,000 barrels a day during the first four months of 2017 even without the OPEC deal, the bank said.
Current output is down 250,000 barrels a day from October and the nation's pledged cut of 300,000 will be fully implemented by the end of this month, Novak said last week.
While drilling falls during the icy winter, companies do take advantage of frozen roads through the swampy Siberian landscape to transport drilling rigs. That sets up the industry for increased activity later in the year when output typically rises, according to Sberbank.
Expansion Plans
Until recently, Russian oil companies were saying they would ramp up production after the agreement expires in June. The Energy Ministry's current outlook for 2017 implies average output of about 11.02 million barrels a day in the second half, some 75,000 barrels a day higher than its target under the OPEC deal.
Rosneft PJSC, the largest producer, is due to start the Yurubcheno-Tokhomskoye field in East Siberia, which should pump about 6 million barrels in total this year. Lukoil PJSC is planning to ramp up new wells at the Filanovsky field in the Caspian Sea, where it started production last summer. Gazprom Neft PJSC is in the middle of an investment boom that should see its Russian oil output increase 7.8 percent this year, according to Sberbank.
The Russian tax system -- which imposes lower rates on new fields -- reduces the likelihood that such projects will be delayed. Producers are more likely to cut back on drilling at their more highly taxed West Siberian assets, according to analysts and executives. Still, an extra six months of cuts would have a significant effect.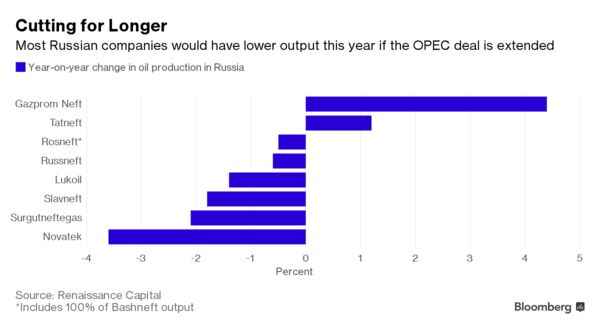 Rosneft's Russian oil production -- including Bashneft, which it acquired at the end of last year -- would be 0.5 percent lower in 2017 than 2016, said Ildar Davletshin, an analyst at Renaissance Capital. Output at Lukoil would be reduced by 1.4 percent, Surgutneftegas OJSC by 2.1 percent, and Gazprom Neft would be restricted to growth of 4.4 percent, he said.
Budget Boost
While the Russian oil companies -- which declined to comment for this story -- may face some thwarted aspirations, the positive impact of the OPEC deal on the Russian government's finances is ultimately more significant.
The rally in prices boosted budget revenue from oil and natural gas above 500 billion rubles ($8.9 billion) in February for the first time in almost two years, Finance Ministry data show. Energy taxes accounted for about half of overall budget revenue in the first quarter, up from an average of 36 percent last year, according to Energy Minister Novak.
Benchmark Brent crude traded at $51.73 a barrel at 7:40 a.m. in London on Tuesday, 16 percent higher than a year earlier.
As President Vladimir Putin seeks to ensure stability ahead of elections in March, that provides a forceful argument for continuing cooperation with OPEC.
Extending the cuts is "a disappointment for the oil companies but as far as the government are concerned they're still well in the money," said Henderson of the OIES.