EghtesadOnline: U.S. stocks rose toward all-time highs as earnings from Caterpillar Inc. to McDonald's Corp. bolstered optimism in the economy. Canada's dollar led export currencies lower as a tariff on lumber reignited concern the Trump administration will pursue protectionist policies.
The Dow Jones Industrial Average reclaimed the 21,000 level as Caterpillar climbed more than 7 percent and McDonald's rose 5 percent. The Nasdaq Composite Index topped 6,000 for the first time. Stocks in Europe rose to a 20-month high as risk appetite fueled by the outcome of France's election continued. The yen fell with Treasuries and gold. The Canadian dollar tumbled after Donald Trump slapped a 24 percent tariff on imported softwood lumber, according to Bloomberg.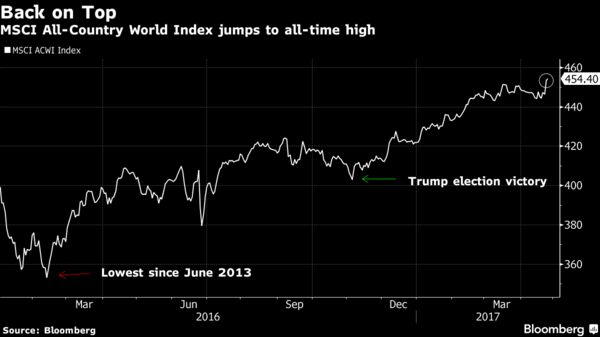 Investor focus shifted to the U.S. economy where corporate earnings and data on housing starts underpinned speculation that growth is poised to accelerate. Trump's decision to impose a fresh tariff rekindled protectionist concern a day before his administration is set to unveil a broad outline for a reduction in corporate taxes. Shares in Europe rose as political risk abated, though tensions around North Korea continued to simmer.
"Attention will fast move over to Washington with the outline of the Trump tax plan likely tomorrow, the need to avoid the shutdown on Friday and the end of the first 100 days of Trump on Saturday" with the White House determined that higher growth can offset tax cuts, Jim Reid, a strategist at Deutsche Bank AG in London, wrote in a note.
Other events that may move markets this week:
Alphabet Inc., Microsoft Corp., Amazon.com Inc., Twitter Inc., Intel Corp., Credit Suisse Group AG, Barclays Plc, Bayer AG, Daimler AG and Total SA are among major companies releasing results this week.
The Bank of Japan is widely expected to keep the settings on its monetary easing program unchanged at the end of a two-day policy meeting on Thursday. Though inflation remains well below the central bank's 2 percent target, it's ticking up.
The European Central Bank sets monetary policy later that same day. With officials indicating little chance of a policy change, the focus will be on any signals from President Mario Draghi that the ECB is starting to discuss an exit from its extraordinary stimulus.
U.S. GDP is due at the end of the week. It's projected to show the economy expanded at a 1.0 percent annualized rate in the first quarter, the weakest pace in a year.
Here are the main market moves:
Stocks
The Dow rose 1.2 percent, or 241.01 points, to 21,004.90 at of 12:33 p.m. in New York, extending gains after sales of new homes unexpectedly rose to the highest since July.
The S&P 500 Index climbed 0.6 percent, 0.3 percent from its March 1 closing record. The Nasdaq Composite added 0.7 percent to 6,025.
The Stoxx Europe 600 Index gained 0.2 percent. The gauge jumped 2.1 percent to the highest since August 2015 on Monday.
Stocks in Japan and Hong Kong led a rally in Asia, jumping more than 1 percent. China equities climbed from a three-month low on speculation that a selloff over concerns of a regulatory crackdown were overdone. Australia and New Zealand were closed for Anzac Day.
Currencies
The euro rose 0.4 percent to $1.0911, the highest level in five months.
The yen fell 0.9 percent to 110.767 per dollar. The currency dropped 0.6 percent in the previous session.
The Bloomberg Dollar Spot Index added 0.2 percent, after slipping 0.5 percent Monday.
The Canadian dollar dropped 0.7 percent to 1.35962 per dollar as Trump intensified a trade dispute with Canada, slapping tariffs of up to 24 percent on imported softwood lumber.
Bonds
U.S. bonds headed for a fifth day of declines, with yields on 10-year Treasuries climbing four basis points to 2.31 percent.
The yield on French 10-year notes rose five basis points to 0.88 percent, after tumbling 11 basis points in the previous session.
German benchmark yields added five basis points to 0.38 percent.
Commodities
Gold futures lost 0.7 percent to $1,269.10, slipping for a second day.
Oil dropped 0.4 percent to $49.03, headed for a seventh straight day of losses before U.S. government data that's forecast to show crude stockpiles fell for a third week.