EghtesadOnline: A relief rally amid speculation that pro-growth centrist Emmanuel Macron will become France's next president was offset by a selloff in Chinese shares.
The euro jumped the most in a month, though the currency pared the steepest gains that came after Macron and far-right nationalist Marine Le Pen won the first round of voting. The yen retreated and volatility ebbed, with gold dropping and 10-year Treasury yields climbing. U.S. stock-index futures rose and Japanese shares led Asian equity gains. Shanghai shares tumbled the most since January amid heightened regulatory scrutiny, Bloomberg reported.
Investors have been anxiously viewing the French vote in the wake of last year's Brexit referendum and Donald Trump's victory in U.S. elections. The result, in which both establishment parties were eliminated, triggers a runoff on May 7 between two radically different visions of the country's future. Le Pen, who wants to take France out of the euro and clamp down on immigration, has trailed Macron, a committed globalist, in almost every opinion poll for the runoff by a margin of some 20 percentage points.
"The market will likely fully price in the outcome of the second round today in favor of Mr. Macron," said Jordan Rochester, London-based foreign exchange strategist at Nomura Holdings Inc. "If that view is right then Emmanuel Macron ought to be the next president of France. And that in turn should be positive for the French economy and for broader European economic stability."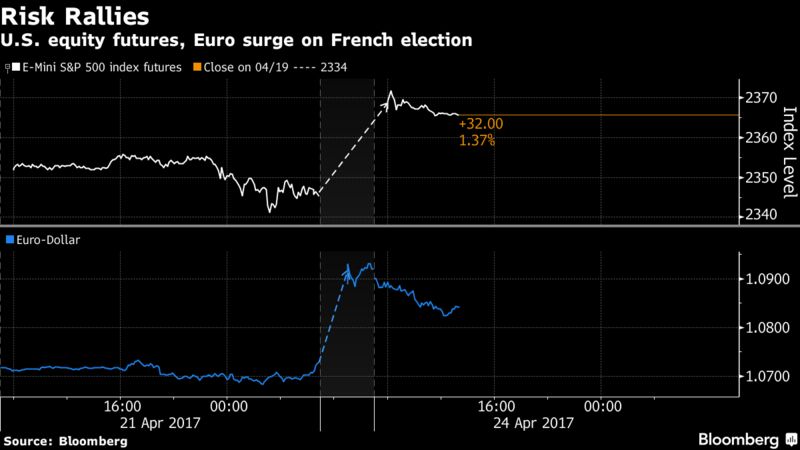 The selloff in Chinese stocks deepened as concern grows that authorities will step up measures to crack down on leveraged trading, as authorities take advantage of a strengthening economy to reduce financial-system risk. The banking regulator said Friday it will strengthen a crackdown on irregularities in the financial sector, echoing comments by the securities watchdog just days earlier.
What investors are watching beyond the elections:
U.S. President Donald Trump tweeted on Saturday that he plans to announce a "big" tax reform and reduction plan on April 26. Meanwhile, a U.S. government shutdown is possible on April 29 if Congress doesn't approve a spending bill to fund the government past April 28.
The spotlight returns to North Korea on Tuesday, as the world waits to see if Kim Jong Un marks the 85th anniversary of the Korean People's Army with another provocation.
The earnings season is in full swing. Alphabet Inc., Microsoft Corp., Amazon.com Inc., Twitter Inc., Intel Corp., Credit Suisse Group AG, Barclays Plc, Bayer AG, Daimler AG and Total SA are among many major companies releasing earnings.
The Bank of Japan is widely expected to keep the settings on its monetary easing program unchanged at the end of a two-day policy meeting on Thursday. Though inflation remains well below the central bank's 2 percent target, it's ticking up.
The European Central Bank sets monetary policy later that same day. With officials indicating little chance of a policy change, the focus will be on any signals from President Mario Draghi that the ECB is starting to discuss an exit from its extraordinary stimulus.
U.S. GDP is due at the end of the week. The economy probably expanded at a 1.5 percent annualized rate in the first quarter, the weakest pace in nearly a year, the estimate is projected to show.
Here are the main market moves:
Currencies
The euro climbed 1.2 percent to $1.0855 as of 1:54 p.m. in Tokyo. The currency soared as much as 2 percent earlier. Other European currencies rallied, with the Swedish krona jumping 1.6 percent and the Danish krone increasing 1.2 percent.
The yen fell 0.8 percent to 110.04 per dollar, after capping the first weekly loss in three on Friday.
The Bloomberg Dollar Spot Index slipped 0.5 percent, trading near the lowest level since the U.S. election in November.
Stocks
Futures on the S&P 500 Index rose 0.8 percent, and contracts on the U.K.'s FTSE 100 increased 0.5 percent.
The MSCI Asia Pacific Index advanced for a third day, gaining 0.1 percent.
Japan's Topix increased 0.9 percent, after its first weekly advance in more than a month. South Korea's Kospi rose 0.2 percent. New Zealand's S&P/NZX 50 Index added 0.3 percent and Australia's S&P/ASX 200 gained 0.1 percent.
The Shanghai Composite dropped 1.6 percent to the lowest since Jan. 20, after the index tumbled 2.3 percent last week. Hong Kong's Hang Seng fell 0.1 percent and the Hang Seng China Enterprises Index was flat.
Volatility measures slumped, with a gauge for the Nikkei 225 Stock Average falling 15 percent, the most since March 6.
Bonds
Treasury 10-year yields rose six basis points to 2.31 percent.
Australian benchmark yields jumped six basis points to 2.60 percent.
The cost of insuring Asia corporate and sovereign bonds from nonpayment fellthe most in five weeks.
Commodities
Gold slipped 0.7 percent to $1,275.53 an ounce.
Oil climbed 0.5 percent to $49.85 a barrel. Crude fell about 7 percent last week for the worst performance in more than a month. An OPEC-led committee was said to back prolonging supply cuts.