EghtesadOnline: Gold sank the most in more than seven weeks as investors returned to riskier assets on speculation pro-growth centrist Emmanuel Macron will become France's next president after the first round of voting, potentially removing a threat to the euro zone from one of the region's top economies.
Bullion for immediate delivery tumbled as much as 1.5 percent, the biggest decline since March 2, to $1,265.51 an ounce, and traded at $1,275.57 at 11:31 a.m. in Singapore, according to Bloomberg generic pricing. The commodity dropped along with the yen as the euro surged, Bloomberg reported.
Gold has pared this year's gain to 11 percent after Macron and far-right nationalist Marine Le Pen won the first round, triggering a runoff on May 7 that's likely to be won with ease by Macron, according to opinion polls. The second round line-up avoids the scenario of a contest between the anti-euro Le Pen and the Communist-backed Jean-Luc Melenchon, curbing risk for the euro zone. With the French poll subsiding as a risk factor, investors' attention may now return to central-bank policies and the chance of a U.S. government shutdown.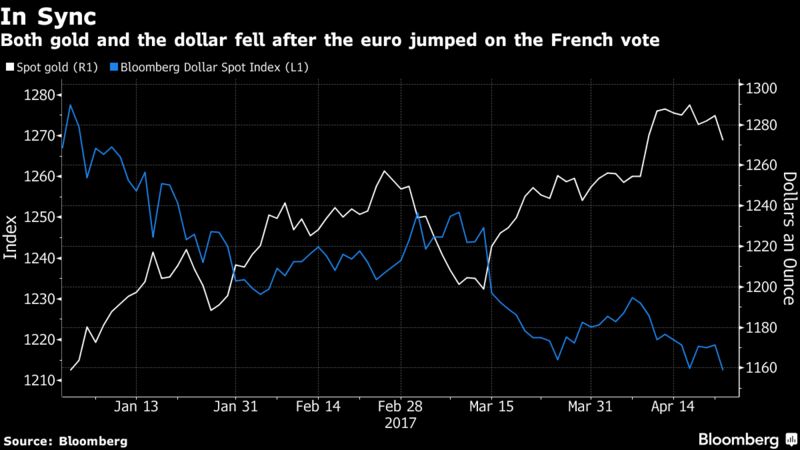 "It appears markets were pricing in the worst case scenario," Daniel Hynes, senior commodity strategist at Australia & New Zealand Banking Group Ltd., said in an email. "So with Macron strengthening his position, the markets are comfortable to push back into risky asset classes."
Investors have been watching the French vote as an event that could reshape local and potentially European politics for years to come. In the election, Macron, an independent, was on course to take 23.9 percent, with National Front leader Le Pen on 21.4 percent, according to Interior Ministry projections. A snap poll released late Sunday suggested Macron would defeat Le Pen by more than 20 percentage points in the second round.
There may be other risks. Investors will be looking for further clues on the Federal Reserve's tightening path as officials meet in the first week of May, although traders are pricing in a slim chance of a rate increase at that meet. Before that, European Central Bank policy makers gather on Thursday.
In the U.S., the White House on Friday ordered federal agencies to begin preparations for the potential shutdown as funding may lapse. Still, Speaker Paul Ryan told House Republican colleagues the next day that a spending bill will be ready in time to avert the stoppage, although he provided few details.
Escalating geopolitical tensions, including in North Korea, at the beginning of this month also helped push investors to haven assets. Hedge funds increased their wagers on a gold rally to the highest since November in the week to April 18, according to U.S. Commodity Futures Trading Commission data released three days later. Holdings in SPDR Gold Trust, the biggest bullion-backed exchange traded fund, rose the most since September on April 19.
In China:
Bullion of 99.99 percent purity dropped 0.3 percent to 284.60 yuan a gram on the Shanghai Gold Exchange.
On the Shanghai Futures Exchange, gold for June delivery retreated 0.2 percent to 285.20 yuan a gram, while silver fell 0.3 percent to 4,149 yuan a kilogram.
In other precious metals:
Spot palladium climbed 0.9 percent, while platinum lost 0.3 percent and silver slid 0.4 percent.