EghtesadOnline: Once bitten, twice shy? Not if you're a Japanese investor looking at Brazil. After seeing their holdings decimated by the Latin American country's downfall into depression and political turmoil two years ago, Japan's investors are getting back on the Brazil roller coaster. With negative yields at home, and a stabilizing economy in the nation with the largest Japanese diaspora, the risk is worth it.
Just ask Kosaburo Kurimoto, the 79-year-old president of a Japanese beauty-equipment company. He's content with his investments in Brazilian government bonds, which offer more than 10 times the yield he could earn at home. He's sticking with Brazil even after volatile returns in the past decade that included losses exceeding 20 percent in just a year, according to Bloomberg.
"There are no investment products in Japan that offer good yields and that's why Brazilian government bonds with about 10 percent yield are really attractive," Kurimoto, said in an interview in Tokyo late last month. "I've decided not to be too emotional on every move up or down."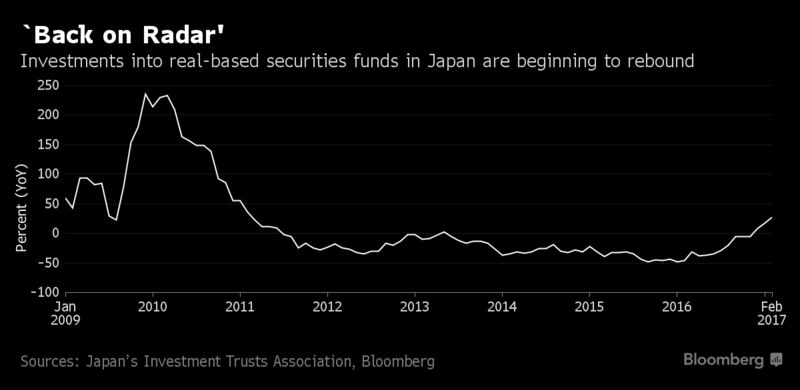 It takes a sense of adventure like Kurimoto's for Japanese individuals to escape the consequences of the Bank of Japan's yield-capping monetary policy. All of the 10 best-performing investment trusts in Japan that invest in global bonds were tied to Brazil, according to data compiled by Morningstar Japan for the year through February. Returns reached as high as 77 percent, the data showed. And nine of the 10 best-performing global stock funds offered in Japan invest in Brazilian equities.
Others Are Wary
Japanese investors are a bit of an exception, with others hesitant to plow money into a country still struggling with political tensions in the wake of the ouster of President Dilma Rousseff. Her successor, Michel Temer, has seen his approval ratings tumble as he presses forward with unpopular austerity measures, just one of a number of current political hot spots in Latin America.
Strong international investment flows have yet to return to Brazil, Alberto Ramos, a Latin America economist at Goldman Sachs Group Inc., said in an interview. Foreign investors are more constructive on Brazil, but bets still aren't high as there's uncertainty surrounding the fiscal scenario, a weak economy and high employment, he said.
Going abroad for Japanese means benefiting from a return of more than 36 percent in the Brazilian real against the yen, including interest income, since the end of 2015, according to data compiled by Bloomberg. Japan has some $16 trillion in household financial assets, with a majority holding more than half their funds in cash. The problem is going into high-risk markets can turn out badly -- such as the 23 percent loss on Brazil for Japanese in 2015.
"Brazil is back on the radar for Japanese retail investors due to the real's recovery and their higher interest rates," Hiroshi Takuda, Tokyo-based manager of the investment trust promotion department at Asset Management One Co., said in an interview last month.
Holdings of Brazilian debt among Japanese mutual funds stood at 455.6 billion yen ($4.1 billion) in February, up about a fifth from the most recent low point in early 2016, according to Japan's Investment Trusts Association.
"Japan won't be able to escape deflation for another 10 years or so," said Kurimoto, who's been holding Brazil's sovereign debt for at least a decade during an investing career of about 50 years. "I saw a great potential in Brazil with the Olympics coming up and a bright outlook for growth -- that's when I decided it will be my life-long investment."