EghtesadOnline: Asian stocks slipped, taking their cue from a weaker U.S. equities session, as a rising yen weighed on shares in Tokyo. Gold extended gains while oil held Monday's losses.
The yen climbed against the dollar for a third day. Tokyo shares were led lower as auto manufacturers reported worse-than-expected U.S. sales for March. China, Hong Kong, Taiwan and India are closed for a holiday. South Africa's rand extended losses for a seventh day after the country lost its investment-grade credit rating from S&P Global Ratings for the first time in 17 years. The Russian ruble steadied after declines sparked by a subway bomb in St. Petersburg that killed 11 people, according to Bloomberg.
Investors are taking stock ahead of a key U.S. payrolls report on Friday and minutes from the Federal Reserve's latest meeting on Wednesday. Institute for Supply Management data showed U.S. factories continued to expand production at a robust pace in March, reaffirming faith in the global economic recovery.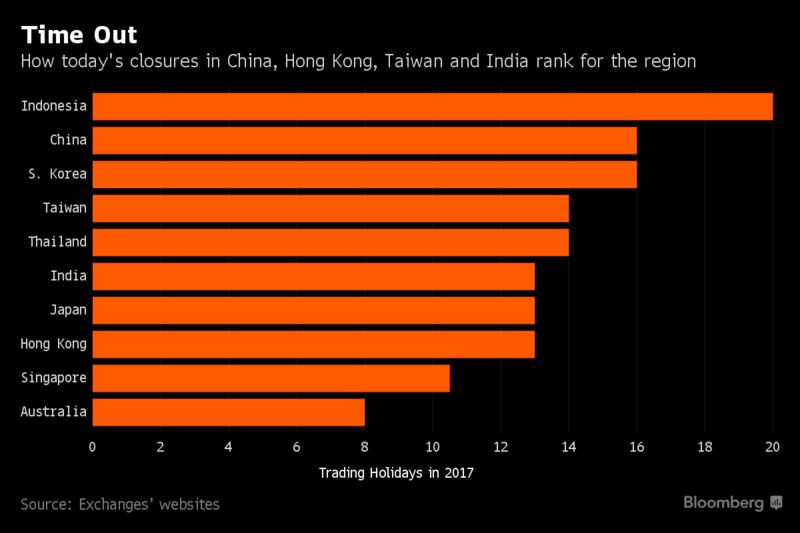 What investors will be watching this week:
Fed speakers include William Dudley, president of the New York Fed, and Governor Daniel Tarullo. Minutes from the March meeting, which are scheduled to be released April 5, should put their recent public comments into perspective. Minutes are also due from the European Central Bank's latest gathering.
China's President Xi Jinping will meet U.S. President Donald Trump for two days starting April 6.
The Reserve Bank of Australia is projected to keep rates steady Tuesday.
India's central bank also will probably hold rates firm later this week.
U.S. non-farm payrolls are due April 7.
Here are the main moves in markets:
Currencies
The yen rose 0.2 percent to 110.64 per dollar as of 11:53 a.m. in Tokyo, after climbing 0.5 percent in each of the previous two sessions.
The Bloomberg Dollar Spot Index was little changed. The New Zealand dollar fell 0.2 percent while the Aussie dollar was steady.
Stocks
The Topix index lost 0.4 percent, with Honda Motor Co., Mazda Motor Corp. and Nissan Motor Co. dropping at least 2.5 percent. Australia's S&P/ASX 200 Index sank 0.2 percent and South Korea's Kospi slid 0.2 percent.
Futures on the S&P 500 lost 0.1 percent. The underlying gauge slid 0.2 percent on Monday and the Stoxx Europe 600 Index declined 0.5 percent.
Bonds
The yield on 10-year Treasuries rose 1 basis point to 2.34 percent, after declining seven basis points on Monday.
Commodities
Oil rose less than 0.1 percent to $50.27 per barrel, after dropping 0.7 percent on Monday.
Gold rose 0.1 percent to $1,255.02, advancing for a third day.