EghtesadOnline: Federal Reserve Bank of New York President William Dudley said three interest-rate hikes in 2017 is a "reasonable" projection and that the central bank may also begin shrinking its balance sheet later this year or in 2018, possibly pausing rate increases in the process.
According to Bloomberg, the median projection for three hikes from the 17 members who comprise the rate-setting Federal Open Market Committee "I think is in a reasonable place," Dudley said Friday in a Bloomberg Television interview with Michael McKee in Sarasota, Florida. "A couple more hikes this year seems reasonable."
Fed officials have already increased interest rates by a quarter-point once in 2017, and investors assign better-than-even odds that they will be able to hike twice more before year-end, according to prices of federal funds futures contracts.
As president of the New York Fed, Dudley has a permanent vote on the FOMC and is widely seen as one of its most influential members. He said Friday that "there's not this huge rush that we have to tighten monetary policy quickly" because "the economy is clearly not overheating." But he added that the time to begin shrinking the central bank's $4.5 trillion balance sheet may be drawing near.
"It wouldn't surprise me if sometime later this year or sometime in 2018, should the economy perform in line with our expectations, that we'll start to gradually let securities mature rather than reinvesting them," Dudley said. "If we start to normalize the balance sheet, that's a substitute for short-term rate hikes," and "we might actually decide at the same time to take a little pause in terms of raising short-term interest rates," he added.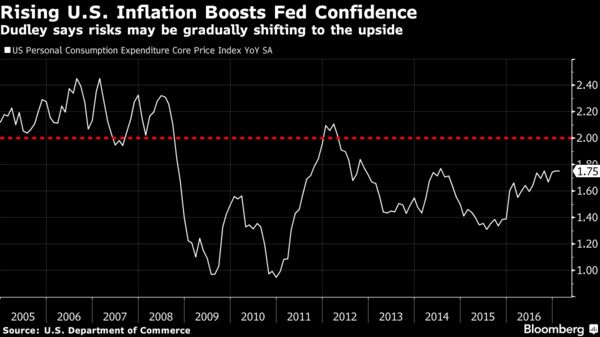 Dudley said he is "not that worried that the markets are going to react to the changes in our balance sheet in a violent way because it's already factored in" to investors' expectations.
Fed officials have been treading carefully when it comes to the balance sheet because they want to avoid causing financial-market volatility.
"I don't think there is a strong need to differentiate between mortgages and Treasuries" when it comes to plans for allowing securities in the Fed's portfolio to mature without reinvesting them, Dudley said. Some Fed officials have argued they should prioritize allowing mortgage-backed securities to roll off the balance sheet first.
Dudley's upbeat view on the U.S. economy marks a shift from last year, when he and most other officials on the FOMC generally agreed that risks were tilted to the downside amid tepid global growth and sliding inflation expectations. That unfavorable balance of risks helped explain why they only raised rates once in 2016, despite projecting four moves at the beginning of the year.
A price gauge based on personal consumption expenditures excluding food and energy rose 1.75 percent in February from a year earlier, marking the highest level of so-called core inflation since July 2014, according to figures published Friday by the Commerce Department. Including all items, inflation accelerated to 2.1 percent, topping the Fed's 2 percent target for the first time since 2012.