EghtesadOnline: The dollar dropped to a session low in choppy trading after New York Federal Reserve Bank President William Dudley said that 2 more rate increases in 2017 seem about right, though there's no need to hurry given that the economy is far from overheating.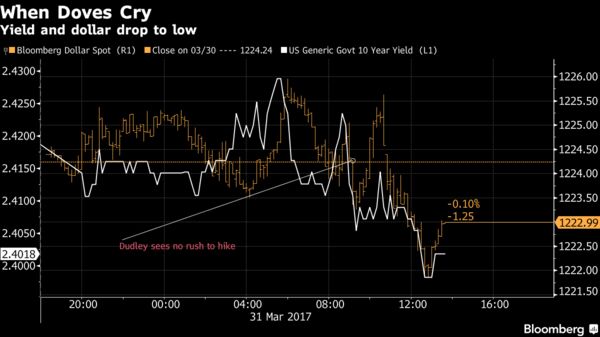 The Bloomberg dollar index remains near its low of the session, tracking a decline in the 10-year Treasury yield, which is close to its daily low below 2.40 percent. The greenback is on track to eke out its first weekly gain in three, though it will record a drop of more than 3 percent for the quarter, disappointing early-year forecasts that had largely expected dollar gains to continue.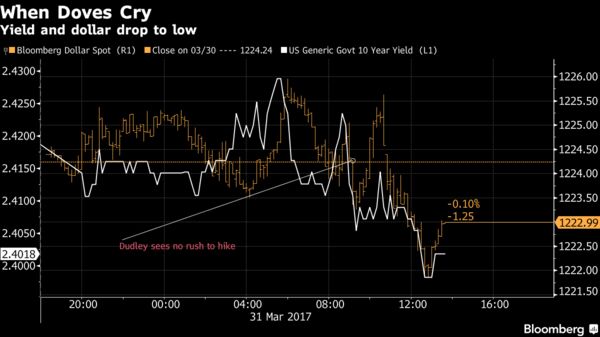 Dollar losses on the day vs G-10 peers were partially offset by gains vs some emerging markets and some commodity FX. The tone was set by the South African rand, which fell as much as 2.6% before paring its losses after FinMin Pravin Gordhan was sacked by President Zuma. Rand price swings were sharp amid sparse liquidity, with the currency briefly paring its losses before resuming its decline.
Trading flows were surprisingly muted in the G-10 space and muddied by month-end portfolio rebalancing that gave the dollar a brief lift ahead of the London fixing, said traders familiar with the transactions who asked not to be identified because they are not authorized to speak publicly.
The dollar fell to a fresh low vs the yen of 111.26, likely triggering some stop-loss sell orders from intraday longs after the pair rose to 112.20 overnight. Japanese banks were largely absent from the market at fiscal year-end, damping flows. The dollar may see fresh demand when Japanese players return to the market next week, one London-based trader said.
EUR/USD rose to a fresh high of 1.0702, rebounding off a session low 1.0670, as the dollar reversed gains. Bids to buy EUR are positioned in the 1.0650/60 zone, though there are stop-loss sell orders building below there, traders said.
Cable rose to a fresh high 1.2548, eclipsing Thursday's 1.2524 high and rising through 1.2530 where sellers have been reported all week. GBP gain pressed euro-sterling to a fresh low for the session beneath its 100-DMA at 0.8558, opening potential for a move toward the February lows ~0.8403.
Within EMFX, the rand remained down more than 1% vs the dollar while the Mexican peso pared its drop to less than 0.2% and the Brazilian real erased its drop to gain ~0.7%.