EghtesadOnline: Stocks in the U.S. and around the world ended a strong first quarter with a whimper as investors wavered amid political and economic uncertainty. The rand tumbled after South Africa's finance minister was fired.
The S&P 500 Index ended trading Friday down 0.23 percent to 2362.72, while the Dow Jones Industrial Average fell 0.31 percent to 20,663.22. Small caps fared better, as the Russell 2000 Index rose 0.26 percent. Since the start of the year, the S&P 500 is up 5.7 percent, its best quarterly performance since 2015, and the Dow has gained 4.9 percent, Bloomberg reported.
Oil held just above $50 a barrel and posted the biggest weekly gain this year on speculation OPEC will extend its deal to curb output. Treasuries rose and the U.S. dollar dropped slightly.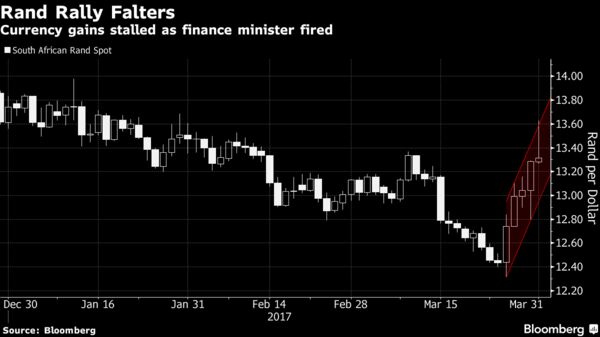 Looking ahead to the second quarter, analysts said investor focus is turning to whether political developments will cloud the brightening global economic outlook. President Donald Trump's setback on his flagship health-care bill has cast a shadow on his broader fiscal agenda, while French elections could be a litmus test for the rise of European populism.
"Given the uncertainty that surrounds what's going on in Washington, and earnings season doesn't start for a couple of weeks, we wouldn't be surprised if the the market saw some weakness," Matt Maley, equity strategist at Miller Tabak & Co. LLC in New York, wrote in a note Friday.
Here are the main moves in markets:
Stocks
The Nasdaq 100 Index dropped 0.06 percent after spending most of the day in positive territory.
The MSCI All-Country World Index declined 0.41 percent.
The Stoxx Europe 600 pared losses to stay little changed, trimming a quarterly advance to 5.2 percent.
Currencies
The rand pared losses to 0.79 percent to 13.3898, after plunging as much as 2.6 percent. South African President Jacob Zuma replaced Finance Minister Pravin Gordhan and overhauled his cabinet in a late-night move that threatens to trigger a revolt against the administration.
The Bloomberg Dollar Spot Index fell 0.1 percent.
The euro slipped 0.4 percent to $1.0671 after tumbling 0.9 percent Thursday.
Bonds
Treasuries rose, sending the yield on the 10-year note down to 2.40 percent, after William Dudley, president of the Federal Reserve Bank of New York, said the expectation of two more interest rate hikes this year is "reasonable" in an interview with Bloomberg Television.
German 10-year yields were steady at 0.33 percent.
Commodities
West Texas Intermediate crude gained 0.72 percent to $50.71, continuing its rise from Thursday, which was spurred by a report that Kuwait and other countries support prolonging production cuts.
Gold rose 0.4 percent to $1,247.57 an ounce, after tumbling 0.9 percent on Thursday.