EghtesadOnline: More people are facing food shortages because of violence across the Middle East and Africa, and crop destruction from unexpected weather patterns caused by El Nino.
About 108 million people dealt with food insecurity at a crisis level or worse in 2016, up 35 percent from a year earlier, according to a report from the Food Security Information Network. Conditions are expected to worsen in some locations, with a risk of famine in parts of northeast Nigeria, South Sudan, Somalia and Yemen, according to Bloomberg.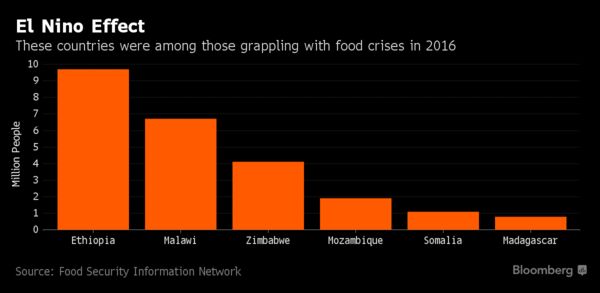 "The persistent nature of these drivers, and their associated impacts, has weakened households' capacity to cope, undermining their resilience and ability to recover from future shocks," according to FSIN, a project sponsored by governments and organizations including the United Nations.
War and internal conflicts have left significant numbers of people in Yemen, Syria, Sudan and others in need of urgent assistance, the report said.
El Nino has led to drought and wiped out harvests in Africa, creating food problems in Somalia, Ethiopia and Malawi. Forecasts show the severity of food insecurity in these regions may increase in 2017.
In some southern African countries, such as Nigeria and South Sudan, prices for staple foods have risen to a record high.
"The food crises in 2016 were both widespread and severe, affecting entire national populations, such as in Yemen, or causing acute damage in localized areas, such as in northeast Nigeria," FSIN said.