EghtesadOnline: U.K. regulators are starting a review into consumer borrowing after the Bank of England warned again about a potentially unsustainable buildup of debt.
In a statement on Monday after its quarterly meeting, the BOE's Financial Policy Committee said household indebtedness "remains high by historical standards and has begun to rise relative to incomes." Noting that consumer credit has been growing particularly rapidly, it said this could be a risk to lenders if underwriting standards aren't strong enough, Bloomberg reported.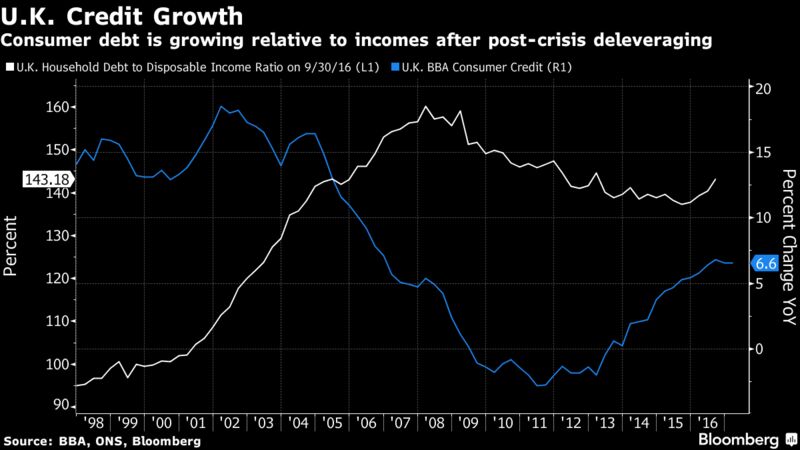 The Prudential Regulation Authority will investigate specific sources of borrowing as part of the concerns. This includes the increased use of interest-free balance transfers on credit cards, which can encourage consumers to borrow heavily as they can move debts easily to new credit-card accounts and get periods without any interest payments to make.
Also on Monday, Citigroup said U.K. consumers are taking out more unsecured loans than they can pay back and losses will rise for the banks that are making them, including Lloyds Banking Group Plc and Barclays Plc.
Outstanding consumer finance debt is growing at about 10 percent each year, Citigroup analysts led by Andrew Coombs wrote in a note titled "Rapid Growth, Aggressive Pricing & Loan Losses Set to Rise." Credit-card debt has jumped to 66 billion pounds ($83 billion), while other forms of consumer finance, including personal loans, overdrafts and car lending, reached 126 billion pounds, the analysts wrote. This is outpacing growth in household incomes, while banks aren't charging enough to cover possible losses, according to the analysts.
Consumer finance, which the analysts say could be the "next U.K. bubble," poses a threat to U.K. banks' profitability just as they recover from years of scandal and losses tied to the last financial crisis. Borrowers are taking out unsecured loans at the fastest rate since before the financial crisis, which a BOE official likened to "flashing lights" earlier this year.
"This looks unsustainable," the Citigroup analysts wrote. "We expect losses on personal loans, motor finance and credit cards will revert back towards historical norms as rising inflation puts pressure on disposable incomes."
Losses on unsecured loans have begun to increase after falling since 2009, while more borrowers have begun to only pay off the minimum required balance on credit card loans, according to Citigroup. Impairments could climb to up to 50 basis points by 2019, more than lenders are forecasting, the analysts wrote.
LLoyds, based in London, has the "greatest exposure" to the U.K. consumer finance market, according to Citigroup. Barclays and Banco Santander SA's U.K. unit are also facing losses, the analysts wrote.