EghtesadOnline: The euro will tumble to a 15-year low if Marine Le Pen becomes French President, with the immediate reaction in the currency similar to that seen in the pound following the U.K.'s Brexit vote, according to economists.
The shared currency would drop to $1 or below a day after a victory for the National Front leader, according to 23 of 38 respondents in a Bloomberg survey, with five of those calling for a decline below 95 U.S. cents. A Le Pen victory is seen causing such a rapid decline because the anti-European Union candidate has threatened to call a referendum on the euro and re-denominate the nation's debt, Bloomberg reported.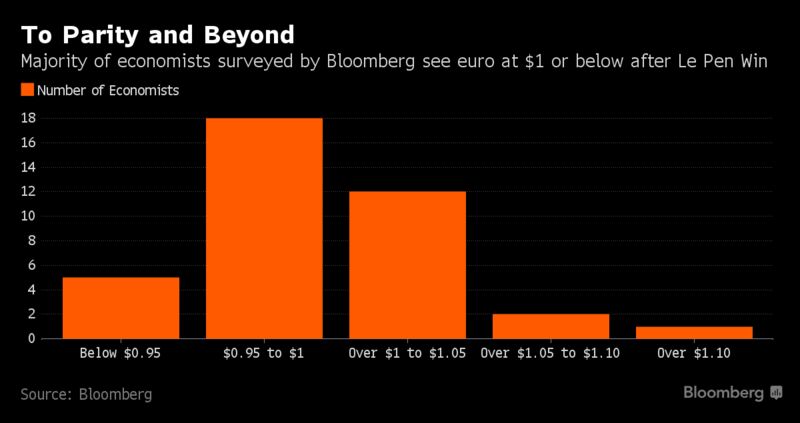 A decline to parity for the first time since 2002 would be a fall of more than 7 percent from the current level of about $1.08, while a move below 95 cents would represent a decline of around 12 percent. Such a move would mirror the reaction seen in the pound following the U.K.'s decision to leave the EU, and reinforce an emerging trend of currencies taking the strain for political upheaval.
In a similar survey before the Brexit referendum last year, the majority of economists forecast a drop below $1.35 in the event of a decision to leave, a call that was borne out after the vote as the pound slumped more than 10 percent to a 31-year low of $1.3229.
"The market reaction would be very negative since re-denomination risks have been priced in only to a very modest extent," said Frederik Ducrozet, an economist at Banque Pictet & Cie in Geneva, who expects the euro to drop below parity after a Le Pen victory.
A Le Pen victory is seen as unlikely, with the economists surveyed by Bloomberg assigning a 61 percent probability that independent candidate Emmanuel Macron will become the next president, compared with just 20 percent for Le Pen.
Macron is seen gathering up to 26 percent of the vote in the first round of the election in April, with Le Pen's support at 25 percent, according to a rolling daily poll by Ifop released Friday. The independent candidate would beat Le Pen in May's second round by 61.5 percent to 38.5 percent, according to the poll.