EghtesadOnline: Another week, another round of gently improving economic data in the euro area -- with one likely exception.
While confidence is on the rise and output in manufacturing and services motoring along, inflation is set to slow for the first time in almost a year as energy-price effects gradually peter out. The latest rush of numbers due from across the 19-nation region will probably bear out Mario Draghi's view that the European Central Bank's actions have largely been a "success," though more stimulus is needed to make temporary improvements permanent.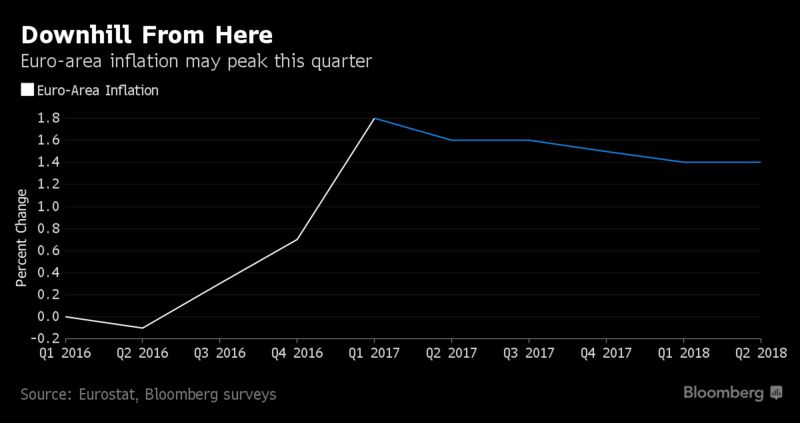 According to Bloomberg, confidence that price pressures will eventually follow the steadily firming recovery has fueled a debate about unwinding unconventional stimulus -- no longer just among economists. Governing Council members have started to think about how to communicate an exit, cautioning at the same time that it is yet too soon to act.
"One thing we can be sure of is that the economy in the euro area is picking up momentum and growth is becoming broader based," said Ken Wattret, an economist at TS Lombard in London. "The big question is: How quickly will we see core inflation picking up? The speed at which the ECB moves to the next stage will be determined by developments in underlying inflation."
Officials hold their next policy meeting on April 27, though a shift isn't seen until at least June, when they will have new forecasts.
The euro began the week stronger, rising to the highest level since Dec. 8 against the dollar. The single currency appreciated 0.7 percent to $1.0871 at 10:13 a.m. Frankfurt time.
Inflation probably decelerated to 1.8 percent in March from 2 percent the previous month, according to a Bloomberg survey of 52 economists. While a slowdown won't surprise the ECB, which predicted the rate would peak in the first quarter, it's a reminder that price trends continue to be driven primarily by volatile components such as energy and food, with underlying pressures still subdued.
The report -- due Friday -- caps a week of data that will shed light on the health of the economy.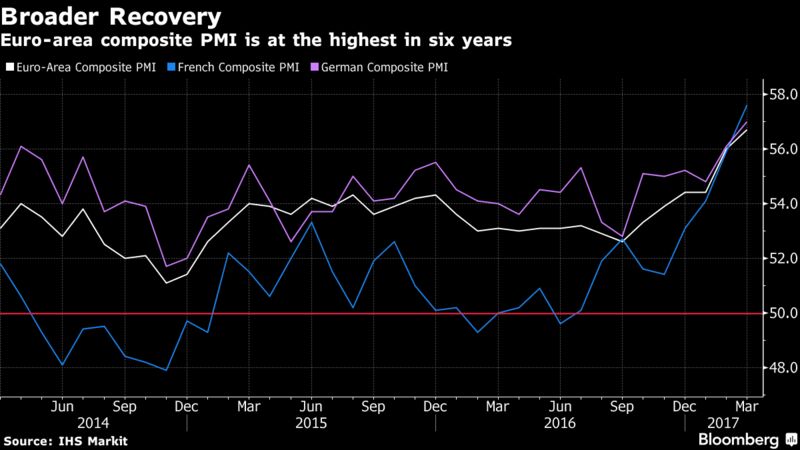 On Monday, a report by the Ifo institute showed business confidence in Germany improved more than forecast in March, climbing to the highest level since July 2011. As the euro zone's largest economy, Germany's fortunes are crucial to the outlook for the region. While quarterly growth has been somewhat erratic -- often due to weather effects -- gross domestic product increased 1.9 percent last year, the most since 2011. GDP in the euro region wasn't far behind at 1.7 percent and is set to be close to that this year.
Economic confidence for the currency bloc as a whole is also improving, and a Purchasing Managers' Index signaled on Friday that the economy is growing at a quarterly pace of 0.6 percent, which would be the strongest in two years.
In a sign that the recovery may be broadening, activity in France outpaced that in Germany for the first time since 2012.
Separate ECB data on Monday painted a mixed picture. Annual growth in credit to euro-area households accelerated to 2.3 percent in February from 2.2 percent the previous month, but loans to non-financial corporations slowed to 2 percent from 2.3 percent.
Peter Praet, the ECB chief economist who has argued that the outlook doesn't warrant talk of a "regime change," has the opportunity to update his assessment on Monday in Madrid. He said last month that the level of slack "continues to restrain underlying inflation" and accommodative policies that support demand are still needed.
His French Executive Board colleague Benoit Coeure, as well as Governing Council members Ignazio Visco, Jozef Makuch and Erkki Liikanen will also speak publicly this week.
"I agree with Praet's view on the labor market -- wage growth is not picking up at all. There's still a lot of slack," said Aline Schuiling, senior economist at ABN Amro Bank NV in Amsterdam. "There's just no underlying inflation."