EghtesadOnline: The dollar extended its decline and stocks fell as investor doubts grew that U.S. President Donald Trump will be able to implement his economic agenda. European bonds and gold advanced and industrial commodities dropped.
The greenback was on the verge of erasing the rally spurred by Trump's election victory, falling against all of its Group of 10 peers after the president and Republican legislators failed to proceed with health-care reform Friday. U.S. equity index futures suggested stocks would retreat for the seventh time in eight days, while European shares slumped. Oil slipped and iron ore futures paced losses in raw materials, while havens including the yen climbed, Bloomberg reported.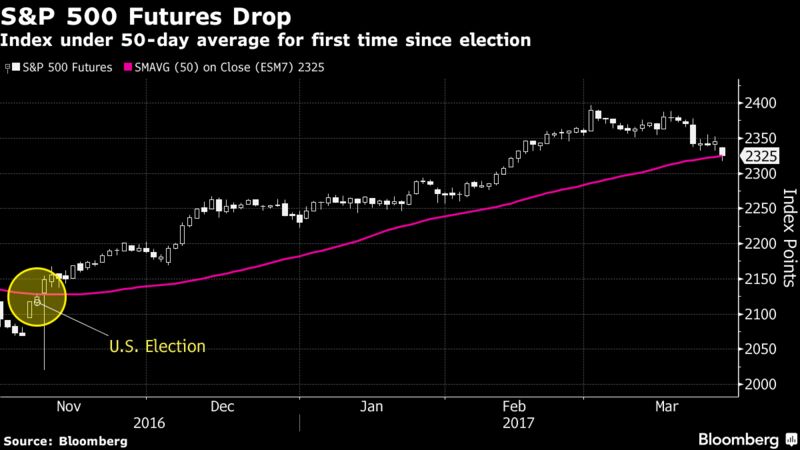 Trump's inability to push through his flagship health-care bill has derailed investor hopes that his pro-business agenda -- featuring tax cuts and regulatory changes -- will enjoy a smooth passage through Congress. Reflation trades sparked by his election are faltering, with the dollar retreating and the S&P 500 Index headed for its worst month since October.
"Trump's failure to get the health care bill through a Republican majority led Congress has raised some concerns about the President's ability to implement his agenda of cutting taxes and raising infrastructure spending," Ole Hansen, chief commodity strategist at Saxo Bank, said by email. "Failure would deflate further the months-long rally in stocks while reducing the need for further Fed action. The result of this has seen the dollar, stocks and bond yields lower which are all good news for investors looking for gold as an alternative."
Here are this week's key events:
U.K. Prime Minister Theresa May will on Wednesday formally trigger the start of two years of Brexit negotiations with a letter announcing Britain's planned withdrawal from the European Union.
Proposals to design and build Trump's promised 2,000-mile border wall between the U.S. and Mexico are due March 29.
The U.S. Commerce Department will probably report that purchases rose in February at the same pace as a month earlier, indicating consumer spending is cooling in the first quarter.
Chicago Fed President Charles Evans, who is a voter this year, speaks on economic conditions and monetary policy at an event in Madrid on Monday. Dallas Fed President Robert Kaplan, also a voter, is scheduled to speak Monday at Texas A&M University.
Hungary, Mexico, South Africa and Thailand are among countries setting interest rates.
Samsung Electronics Co. will introduce its Galaxy S8 smartphone, the company's first new mobile phone since the debacle with the Note 7 battery fires that led to its recall.
Here are the main moves in markets:
Stocks
Futures on the S&P 500 dropped 0.9 percent as of 11:19 a.m. in London. The underlying gauge last week tumbled 1.4 percent.
The Stocks Europe 600 Index fell 0.5 percent as it was dragged down by miners and banks.
Currencies
The Bloomberg Dollar Spot Index fell 0.5 percent.
The yen rose 0.9 percent to 110.32 per dollar.
The euro gained 0.6 percent to $1.0867 and the British pound added 0.9 percent.
Bonds
Yields on 10-year Treasuries dropped four basis points to 2.37 percent, after giving up one basis point on Friday.
Core bonds traded higher, with German 10-year yield dropping one basis point.
Peripheral bonds were steady, with volumes very light, according to two traders in London, who asked not to be identified because they're are not authorized to speak publicly.
Commodities
Gold rose 1.1 percent to $1,257.42, heading for the highest close since Nov. 10.
West Texas Intermediate oil slipped 0.9 percent to $47.54 a barrel, erasing an earlier gain of as much as 0.7 percent. Crude producers pledged to consider extending their pact limiting supply.
Iron ore futures slid 3.9 percent, after briefly erasing gains for the year. The commodity surged in the opening weeks of 2017 following a surprise rally last year amid optimism about the demand outlook in China.
Copper fell 1.5 percent and tin dropped 1.9 percent.
Asia
The MSCI Asia Pacific Index fell 0.3 percent, with more than three shares falling for every one advancing. Japan's Topix led declines, dropping 1.3 percent to the lowest since Feb. 9 and almost wiping out gains for 2017.
Chinese shares traded in Hong Kong fell 1.1 percent and India's Sensex index slid 0.6 percent.