Argentina, Brazil, Russia and Nigeria are set for growth spurts
EghtesadOnline: Expect more good news than bad when it comes to global growth this year, led by recoveries in several of Latin America's largest economies, a pickup in the U.S., and continued robustness from China and India.
The expectation is that 62 economies are slated for an improvement compared with last year, while 33 will see a deterioration, according to an analysis of the latest Bloomberg consensus outlook. Near the top of the list are Argentina and Brazil, both set to shift from contraction to expansion, along with energy exporters Nigeria and Russia thanks to a rebound in the price of oil from a 13-year low in January 2016.
While Venezuela actually came in first place for the biggest economic improvement — 7.5 percentage points from 2016 to 2017 — it's still facing a deep economic crisis, with high inflation and shortages of food and other basics, according to Bloomberg.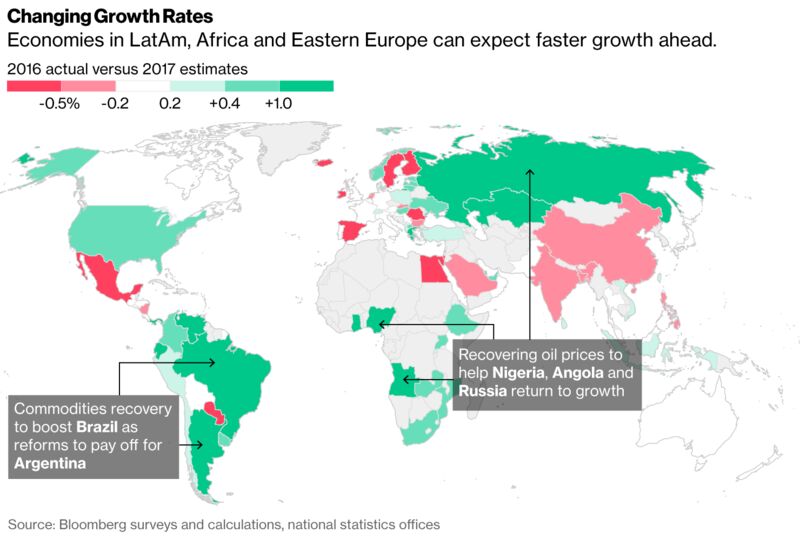 Instead look to Brazil as the real poster child of 2017, where growth has picked up as the country recovers from its worst recession in a century. Marred by its biggest bribery scandal in history, which saw the impeachment of a president, Brazil is now benefiting from rising commodity prices as President Michel Temer tries to shore up the country's finances and boost private-sector activity. A similar dynamic is at play in Argentina, where growth is set to accelerate by over 5 percentage points this year, but likely be offset by high inflation.
Some countries have less to celebrate. In Iceland, growth is forecast to fall to 4 percent in 2017 from 7.1 percent last year, along with protest-prone Romania, unemployment-ridden Spain, and one of President Donald Trump's frequent targets, Mexico.
The U.S. is in line for a respectable growth boost this year to 2.3 percent, while emerging market giants China and India will remain the envies of the world — growing by 6.5 percent or more each — even as they're both expected to slow marginally compared to 2016.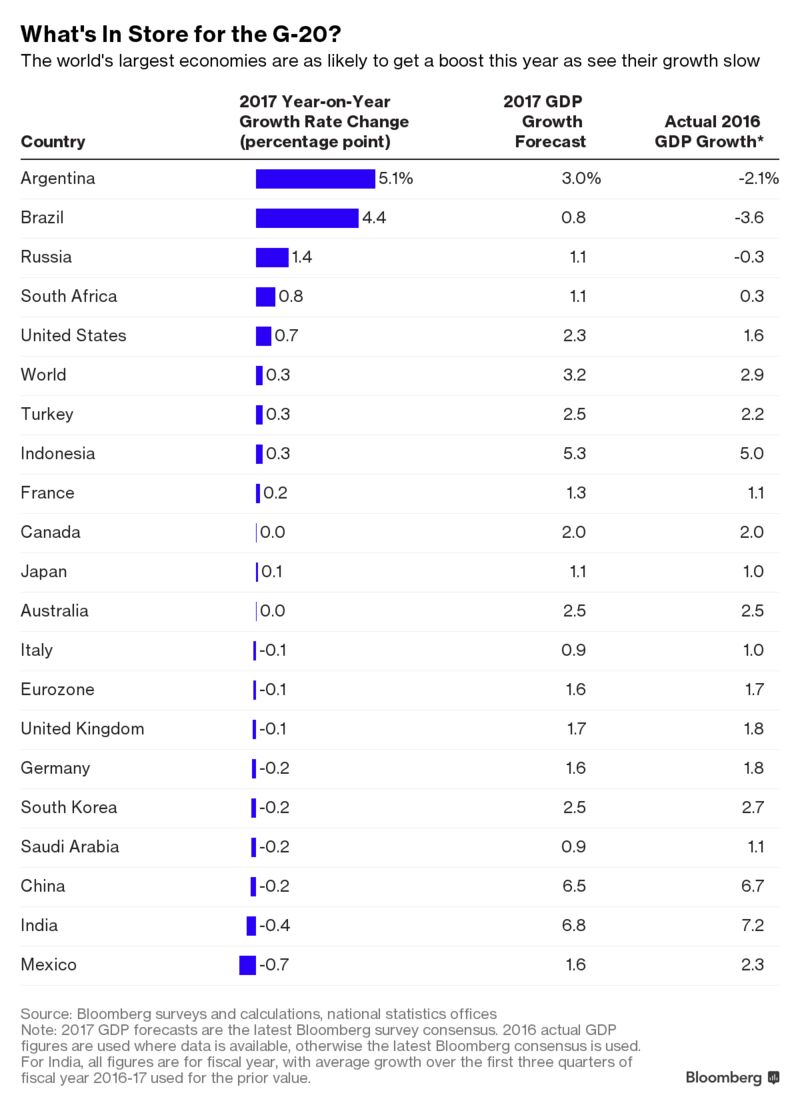 The projected speed of growth in South Africa may be slightly misleading, as there are few signs of underlying strength in the economy and more a reflection of just how bad 2016 was for the country, which was dealing with a historic drought and widespread labor strikes.
Europe's largest economies, meanwhile, should brace for easing of their already lackluster growth, including the U.K., which is set to kick off Brexit negotiations with the European Union. The standout growth star on the continent is France, whose 2017 elections will be watched closely as a pivotal moment for the EU and the euro-area.