EghtesadOnline: Algeria's energy minister supports extending global oil production cuts beyond June as the strategy is succeeding in reducing global inventories. Russia is moving ahead with its own reductions to curb a global glut.
"We are making progress in balancing the market," Algeria's Noureddine Boutarfa told reporters Saturday as ministers are meeting in Kuwait City to discuss compliance with the cuts. "Stocks in Europe and Asia are diminishing, we will see them diminishing in the U.S. as well and that will reassure the market." Iraq has made "good efforts" even if independent analysts disagree, he said in a Bloomberg Television interview. Boutarfa asked for cuts to be extended three or four months, Bloomberg reported.
A "clear impact" of the deal, including on U.S. stockpiles, will be visible in the next few weeks, he said in a video Saturday on the ministry's Facebook page.
Ministers meeting in Kuwait on Sunday will discuss the possibility of an extension of the cuts beyond June, even if that's not the monitoring committee's role, Boutarfa said. With U.S. crude stockpiles swelling to record levels and prices sinking below $50 a barrel, OPEC and its partners have little choice but to keep going, according to all 13 analysts surveyed by Bloomberg.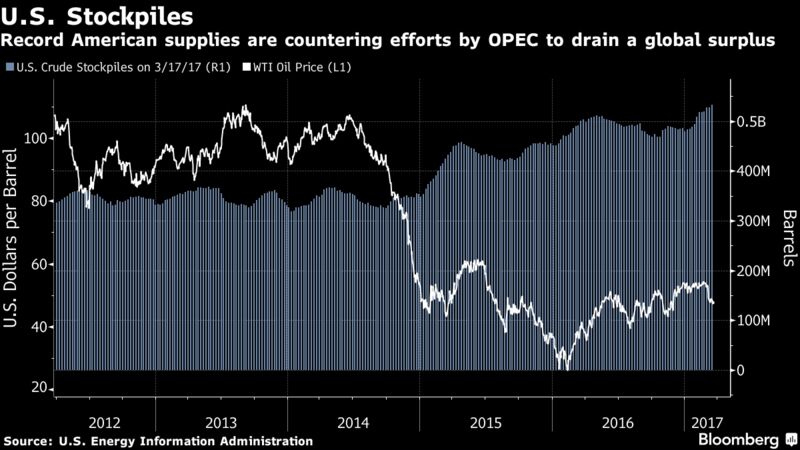 Kuwait this month became the first nation to call for extending the production cuts, with Oil Minister Issam Almarzooq saying inventories had grown more than expected. The Organization of Petroleum Exporting Countries and 11 other major producers including Russia agreed last year to slash production, spurring a 20 percent increase in Brent oil prices during the last five weeks of 2016. The rally stalled this year as U.S. output and supplies continued to grow. OPEC ministers will meet May 25 in Vienna to decide whether to extend the deal.
Saudi Shift
Iraq and Angola, two other OPEC members, have signaled a willingness to back cuts beyond the first half of this year. Khalid Al-Falih, the energy minister of the group's biggest producer, Saudi Arabia, signaled in a Bloomberg Television interview on March 17 that the kingdom has grown more willing to extend the curbs. The deal will be maintained if oil stockpiles are still above their five-year average, he said, shifting from his previous position that six months of cuts would be enough.
OPEC data is showing a 106 percent compliance with the cuts in February while that of non-OPEC nations, including Russia, was 64 percent last month, according to OPEC delegates. Non-OPEC compliance is 64 percent, Kuwait Oil Minister Almarzooq said Saturday.
Russia has reduced production by 185,000 barrels a day from the October level, Energy Minister Alexander Novak told reporters in Kuwait City. The country's target cut is 300,000 barrels a day. That means Russia's production would be lowered to 10.947 million barrels a day -- accomplished by the end of April -- from 11.247 million barrels a day in October, according to Russia's Energy Ministry.
OPEC's compliance with the promised cuts is "at levels we have never seen," Algeria's Boutarfa said in the Bloomberg interview. "In the past it was 60 to 65 percent." For non-OPEC, "it's the scenario we expected. It will be gradual rather than instant."
Algeria seeks to be exemplary in implementing the output cut accord and has itself reduced production by an extra 7,000 barrels a day in February compared to January, the minister said. Production cuts in Algeria have also translated into export reductions, he said.