EghtesadOnline: For the stock market, the drawn out attempt to pass a health-care bill may not matter after all.
According to Bloomberg, the S&P 500 Index ended a back-and-forth session little changed, erasing losses after the House of Representatives canceled a vote on the bill Friday afternoon as Republicans determined they didn't have enough votes to pass it. Now, President Donald Trump is focusing on tax reform, according to the Washington Post.
Regardless, the markets win, say analysts such as Evercore ISI's Terry Haines.
"We expect President Trump and Congress now to pivot hard towards its economic growth agenda, the centerpiece of which is tax reform," Haines wrote in a note to clients Friday afternoon. "We continue to think the earliest tax reform could be finished is by August, an aggressive timeframe but one publicly confirmed by Treasury Secretary Mnuchin this morning."
The S&P 500 ended trading Friday essentially flat, while the Dow Jones Industrial Average dropped 0.29 percent and the Nasdaq 100 Index rose 0.17 percent. That's not to say the market ignored the political wrangling -- earlier in the day, the S&P 500 swiftly pared gains and Treasury yields plummeted when word circulated that GOP leaders didn't think the measure could pass.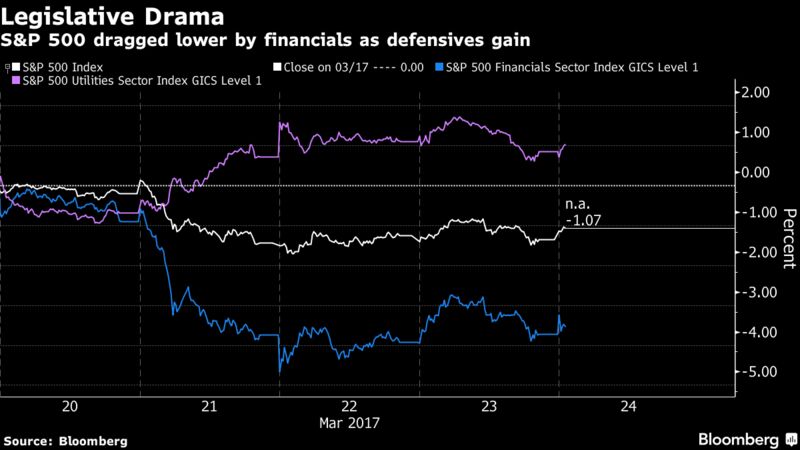 For some, the push by House Speaker Paul Ryan on the embattled health care bill was just noise because, as expected, the Trump administration is moving on to tax reform. So simply getting the vote out of the way allows Congress to tackle policies largely viewed as positive by the markets.
A year's worth of campaigning on taxes and economic growth leaves little doubt about Republicans' enthusiasm for deregulation and tax reform. Part of the issue, however, comes down to timing and whether the difficultly of passing health care reform will ultimately diminish the administration's prospects for pushing through other legislation.
'Doesn't Make Sense'
For UBS Group AG strategist Julian Emanuel, the idea that health bill's failure spells doom for the rest of the Trump agenda "absolutely doesn't make sense." Though it could take until the beginning of next year, the legislative support for U.S. stocks isn't disappearing, he said.
"Yes, today is important, but it's not the be all and end all," Emanuel said in an interview on Bloomberg TV. "Even if this bill doesn't pass, there's still impetus for less regulation rather than more. Support of financials and tax reform is not a dead idea."
But not everyone is as sanguine.
"If they fail at this then the prospects for tax reform, infrastructure and defense spending will need to be rethought," Steve Ricchiuto, chief U.S. economist at Mizuho Securities Inc., wrote in a note Friday. "The reflation trade has been the main driver of markets since the election and the legislative failure after bungling the immigration executive order."
Ricchiuto believes that if the health-care bill fails the S&P 500 will fall as much as 4 percent from Thursday's close and yields on the 10-year Treasury to drift back toward 2.2 percent. Yields edged higher past 2.4 percent on Friday.
Doubts about the timing of tax reform are creeping into the equity market. Companies that benefit from a corporate tax cut surged after Donald Trump's election, but have started to lag. A Goldman Sachs Group Inc. basket of 50 S&P 500 stocks with the highest effective tax rates has fallen 2.6 percent so far this month, compared with the lowest tax basket, which is unchanged.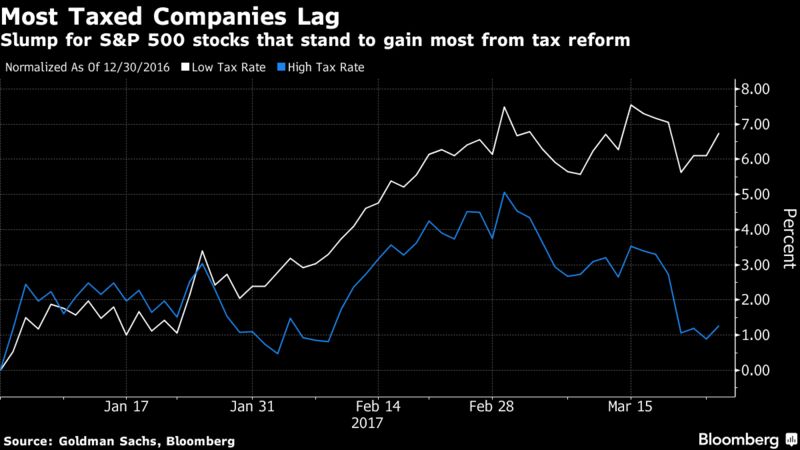 Bank stocks, which also stand to benefit from tax reform and deregulation, have also taken a pause after posting their longest monthly winning streak since 2013. Financial companies in the S&P 500 slumped 3.8 percent since March 17, the worst week in over a year.
There are "several implications for bank and financial stocks as well as the broader market in case the House defeats the bill," wrote Brian Gardner, an analyst at Keefe, Bruyette and Woods Inc., in a note to clients Friday. "If the bill fails, the prospects for tax reform will decrease, which could also drag down the chances for making legislative changes to Dodd-Frank."