EghtesadOnline: The Trump Trade just took a big hit. U.S. stocks fell the most since the week leading up to the U.S. election as President Donald Trump suffered a major setback when he was forced to pull his health-care bill from a vote amid dissent among congressional Republicans. Investors also turned to bonds as U.S. Treasuries rallied for the second week.
According to Bloomberg, both conservatives and moderates opposed the bill even after Trump met personally with scores of lawmakers and traveled to Capitol Hill on Tuesday to address House Republicans. The setback also cast doubt on the president's ability to shepherd other parts of his agenda, including promised tax cuts and regulatory reform, through Congress.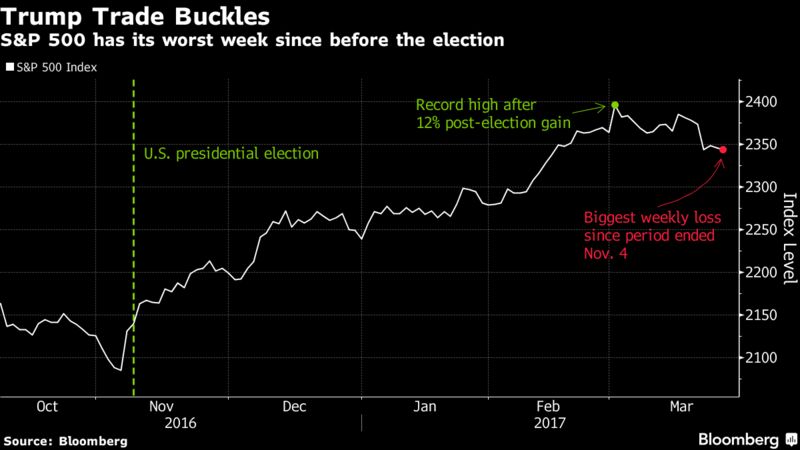 The S&P 500 lost 1.4 percent to end at 2,343.98, its second weekly decline this month. While the benchmark for American equities hasn't posted a daily 1-percent gain in more than three weeks, it's down just 2.2 percent from its record high. The Dow Jones Industrial Average lost 1.5 percent to 20,596.72 as small-cap stocks in the Russell 200 Index erased 2.7 percent.
"Market participants feel future Trump agendas like tax reform and fiscal stimulus are less likely to occur if the repeal and replace of the Affordable Care Act does not pass," Charlie Ripley, investment strategist at Allianz Investment Management, said in an email to clients. The firm manages more than $700 billion.
Financial stocks were the biggest laggards this week, as the group lost 3.8 percent. Those shares have slid in 11 of the past 15 sessions amid a strengthening bond market that has pushed the 10-year Treasury yield down 21 basis points since March 13. Utility shares and real estate stocks were the only industry groups to advance on the week.
The turmoil in Washington surrounding the health-care legislation also whipsawed stocks the most this year. The CBOE Volatility Index, which tracks implied volatility in the S&P 500 Index, rose 15 percent in the biggest weekly increase since the five days ended Dec. 30.