EghtesadOnline: Deutsche Bank AG said it will raise 8 billion euros ($8.6 billion) from a capital increase starting this week as the lender seeks to shore up its finances and boost growth.
According to Bloomberg, the Frankfurt-based company will issue 687.5 million new shares at 11.65 euros apiece, it said in a statement on Sunday, in-line with the bank's March 5 announcement on the planned sale. The shares are priced at a discount of about 35 percent from Friday's close and almost 41 percent since Bloomberg first reported that the bank was weighing a capital raising. Existing investors will be able to acquire one new share for each two shares they now hold.
The share sale, which will run from March 21 through April 4, will be the fourth capital infusion for Deutsche Bank since 2010. Chief Executive Officer John Cryan, who had previously said he didn't want to tap shareholders, reversed course this month after the shares almost doubled from their September low and Deutsche Bank was unable to find a buyer for a consumer banking unit.
Deutsche Bank fell 1.5 percent Friday to close at 17.86 euros. The stock is still up 80 percent from an intraday low on Sept. 30, amid renewed optimism for banking stocks as investors speculate economic growth and rising borrowing costs could revive earnings.
"The environment for the share sale is almost perfect, given the expectation of higher interest rates and buoyant equity markets," Ingo Frommen, an analyst with LBBW who has a hold recommendation on the stock, said ahead of today's announcement.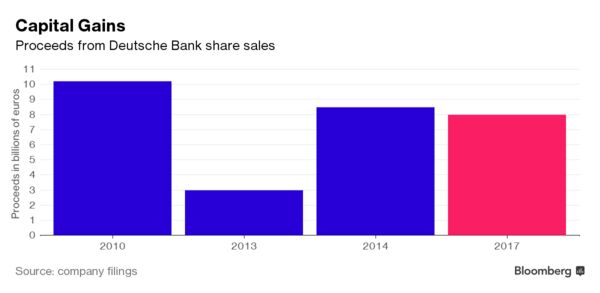 Germany's largest lender has posted more than 8 billion euros of net losses in the past two years as Cryan settled misconduct cases and scaled back risk in the investment bank. He's trying to sweeten the offer with the promise of renewed dividends and a return to profitability this year.
The bank said previously that the latest share sale would boost its common equity Tier 1 ratio, a key benchmark of financial strength, to 14.1 percent and vowed to keep it "comfortably above" 13 percent. The measure stood at 11.9 percent at the end of 2016.
Asset Management
The lender also said it will sell a minority stake in its asset management unit through an initial public offering in the next two years. That, along with more minor asset disposals, will help raise at least another 2 billion euros of capital.
The bank is considering the sale of retail operations in India and European countries including Spain as part of the plans to boost capital levels, people with knowledge of the matter said earlier this month.
Deutsche Bank has said earlier this month that the capital increase was fully underwritten at 11.65 euros a share by banks including Credit Suisse Group AG, Barclays Plc, Goldman Sachs Group Inc., BNP Paribas SA, Commerzbank AG, HSBC Holdings Plc, Morgan Stanley and UniCredit SpA. The group of banks underwriting the deal has increased to 30, it said today.
Qatar's royal family and China's HNA Group Co., two of Deutsche Bank's biggest investors, plan to buy shares in the rights offer with a view to increasing their stakes, people with knowledge of the matter said earlier this month.