EghtesadOnline: Donald Trump is forcing the European Union and China to decide how willing they are to set aside trade tensions that go back decades.
As the U.S. president pushes his mantra of "America First," German Chancellor Angela Merkel and Chinese President Xi Jinping are taking almost every opportunity to affirm their commitment to free trade. Just last week, they agreed on a phone call "to continue their trusting cooperation" on open markets, according to Bloomberg.
The challenge, say trade officials, will be using those warm words to overcome knotty issues that have soured China-EU relations for years. Just over a decade ago, the so-called Bra Wars highlighted European angst about cheap Chinese textiles undercutting domestic manufacturers, and tensions continue to simmer over solar power, steel and even bicycles. Meanwhile, populist groups like Marine Le Pen's National Front in France are running for election on an anti-free trade ticket.
"There are still many obstacles to cooperation," said Wang Yiwei, a professor of International Relations at Renmin University in Beijing and a former Chinese trade official in Europe. "We don't look to Europe to balance the United States, but we can hope that Europe might help with the kind of American unilateralism or its tendency to do whatever it pleases that we've seen in the past."
Mixed Messages
The chiming signals by Europe and China come as Xi plans a visit to Berlin this year and the U.S. sends mixed messages on its future trade policy.
On one hand, Trump adviser Steve Schwarzman said this month that the president is likely to temper his criticism of China as time goes on, and Xi may be hosted at the Mar-a-Lago club in Florida as soon as next month.
On the other hand, both Germany and China are in the U.S. firing line over exchange rates that the White House has said unfairly boost exports. Trump's top trade adviser Peter Navarro has called China "the biggest trade cheater in the world," and said the U.S.'s deficit with Germany will be among the toughest to tackle. And after Trump hosted Merkel for the first time in the White House on Friday, he repeated his complaints that the U.S. has been treated "very, very unfairly" in trade arrangements.
Fears over a Trump turn inward may present an opening to break the impasses that have hampered EU-China relations, according to officials in Berlin, who declined to be identified, because government deliberations are private. Days before Trump took office, Xi likened protectionism to "locking yourself in a dark room" and drew a chorus of approval led by Merkel.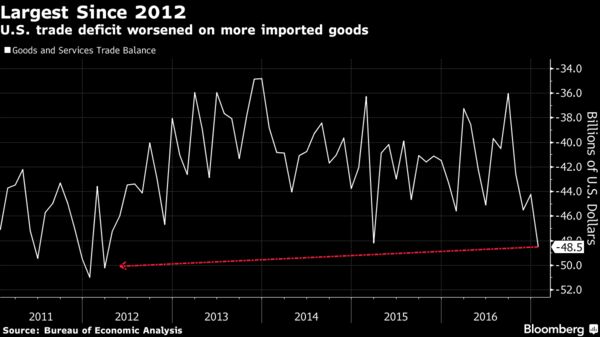 At a meeting of the Group of 20 finance ministers and central bank governors in Baden-Baden, Germany, that ended on Saturday, China positioned itself as a defender of the global trading system, resisting U.S. demands to move away from multilateral agreements, further highlighting the common ground between the EU and China.
"These two major economic powers are going toward the start of talks on a free-trade agreement sooner or later," said Hosuk Lee-Makiyama, director of the European Centre for International Political Economy in Brussels. "We are probably talking about three to five years."
Since Xi's remarks in January, however, doubts persist in Europe about China's willingness to deliver on his pledge. Europe has long been frustrated by China's exports policies -- in 2005, about 75 million pieces of Chinese-made textiles were held at ports across Europe amid concerns that domestic manufacturers couldn't compete with cheaper imports.
Over a decade later, tensions remain. Last year, the 28 members of the European Union ran a trade deficit in goods of 175 billion euros ($188 billion) with China, while three years of talks between Brussels and Beijing on an investment accord to level the playing field for European companies in China have little to show.
Reality not Bright
"There are certain reforms that China needs to make and maybe they are not really ready to do that yet," EU Trade Commissioner Cecilia Malmstrom said in a Bloomberg Television interview on March 8. "Unfortunately the reality in China today is not so bright; it is difficult for European and other businesses to make business there."
The EU has no concrete plan at the moment -- political or technical -- to seek a stronger commercial relationship with China as a result of possible U.S. protectionism, according to a European official, who described the relationship as rocky.
While Chinese Premier Li Keqiang last week called for Europe to embrace the bilateral investment treaty, ongoing talks on the accord are difficult, making the idea of a move to start negotiations on any free-trade deal with Beijing far-fetched, according to the official.
The Chinese have made high-profile purchases in Europe, including German airports, the Port of Piraeus in Greece and Italian tire maker Pirelli & C. SpA. By contrast, European forays into China are hampered by equity caps and licensing restrictions, according to the EU. The investment agreement "hasn't advanced a lot," Malmstrom said. "We are hoping that we can take a step forward."
Distorting Markets
In a report earlier this month, the EU Chamber of Commerce in China warned that subsidies being poured into a Chinese program aimed at bolstering manufacturing in 10 high-technology industries ranging from machine tools to medical devices will distort markets and fuel overproduction.
The Chinese too have frustrations. The EU, for example, has yet to grant the nation the 'market economy status' that would make it harder to levy duties on Chinese goods sold below cost, a practice known as dumping.
Beijing is asking the World Trade Organization to rule on whether the EU's anti-dumping policy toward China violates international rules, a case which risks stirring up tensions as populists like Le Pen surf a wave of anti-globalization.
For all that, efforts to ease EU-China tensions could bolster the case for free-trade talks between both sides by becoming part of a grand political bargain.
"Trump has pressured China and Germany in a similar way over the currency issue and that's increased the need for us to cooperate," said Renmin University's Wang. "Europe is more reliant on globalization than the United States, so they're very worried about its reversal. China has the same worries."