EghtesadOnline: A gauge of gold producers including Newmont Mining Corp. and Barrick Gold Corp. headed for the biggest weekly gain this year as the metal rebounded on the outlook for U.S. interest rates.
The BI Global Senior Gold Valuation Peer Group of 15 companies is up 6.5 percent this week, the most since the end of December. Gains for the past five days were led by Johannesburg-based Gold Fields Ltd., which surged 15 percent this week, the most since February 2016.
According to Bloomberg, bullion futures have surged after the Federal Reserve signaled it will stick to its gradual pace on rate increases, easing concerns that policy makers would move at a faster clip amid signs of a strengthening economy. Gold, which rallied through the first two months of the year, had foundered in March as the prospect of higher borrowing costs curbed the appeal of non-interest-bearing assets.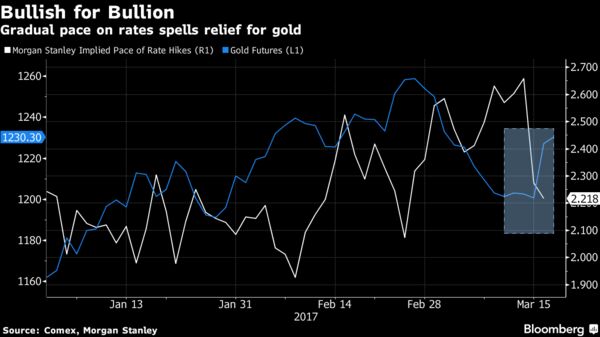 "The gold miner's rally has much more room to go and this will be primarily due to the reason because there is still more upside to gold," Naeem Aslam, the chief market analyst at ThinkMarkets U.K. Ltd., said in an email. "The Fed is not going to hawkish anytime soon."
Gold futures for April delivery rose 0.3 percent to settle at $1,230.20 an ounce at 1:49 p.m. on the Comex in New York. The metal is up 2.4 percent this week, the biggest gain since Feb. 3.
Demand for the metal as a haven asset is also getting help from the Fed's economic forecast, which showed policy makers don't foresee a rapid pickup in U.S. growth.
U.S. central bankers left unchanged their forecast for 2017 GDP growth at 2.1 percent. The median estimate showed the economy expanding 2.1 percent in 2018 and 1.9 percent in 2019, compared to 2 percent and 1.9 percent in the December forecast.
"It is almost as if the gold market is relieved that the U.S. Federal Reserve raised interest rates on Wednesday evening, meaning that the whole business can be forgotten again for a while," analysts at Commerzbank AG including Daniel Briesemann said in a note Friday.
The Bloomberg Americas Mining Index headed for its biggest weekly gain since mid-January paced by mid-sized producers and juniors. Pretium Resources Inc. and Alamos Gold Inc. jumped more than 10 percent.