EghtesadOnline: Saudi Arabia has set a near-impossible target to end the current round of OPEC oil-production cuts, indicating that a policy rollover into the second half of the year is a near certainty.
OPEC, which pumps about 40 percent of the world's oil, and several non-OPEC countries including Russia agreed in December to reduce production for six months in an effort to bring supply and demand into balance. At the time, the producers said they could extend the deal for an extra six months, Bloomberg reported.
In an interview with Bloomberg Television on Thursday, Saudi Energy Minister Khalid Al-Falih said that OPEC would extend the cuts after they expire in June if oil stockpiles were "still above the five-year average." Because oil stocks are so far above that level, the target will probably still be out of reach when the Organization of Petroleum Exporting Countries gathers in Vienna on May 25.
"It looks impossible for total OECD company stocks on land to fall back by mid-year to the five-year average, which OPEC has set as a key benchmark as to whether it should extend its deal," oil consultants FGE told clients in a note.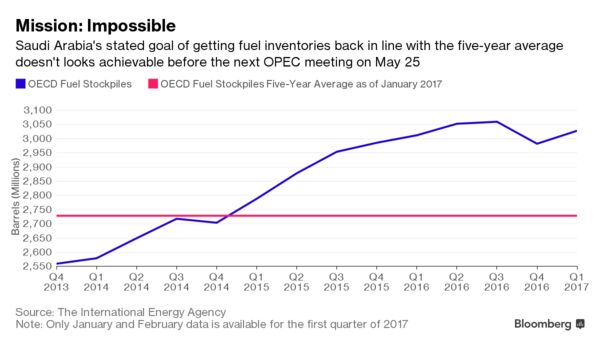 Oil stocks in the world's richest countries stood at 3,025 million barrels in February, or about 297 million barrels above the five-year average, according to Bloomberg calculations based on International Energy Agency data.
To reduce the overhang to within the five-year average on time for OPEC's next meeting, inventories would need to drop at an unusually high rate -- of more than 3 million barrels a day. With current supply and demand trends, OPEC can hope for, at best, a reduction of about 500,000 barrels a day.
WTI Slides
West Texas Intermediate, the U.S. crude benchmark, last week fell below $50 a barrel for the first time this year amid worries about the pace of the stockpile reduction. Brent crude is trading at about $52 a barrel.
"We expect Saudis to defend prices over market share through 2017 and the output deal to be extended at OPEC's next meeting on May 25th, continuing to tighten the market," Ed Morse, head of commodities research at Citigroup Inc. in New York, said in a note to clients.
OPEC and its allies agreed in December to reduce output by nearly 1.8 million barrels a day in the first half of the year to rebalance the market. So far, OPEC has delivered nearly all the cutbacks it promised, mostly because Saudi Arabia has cut deeper than agreed. Non-OPEC nations have been slower, however, so far delivering about a third of their agreed reductions. Russia has trimmed about half what it promised while Kazakhstan has actually boosted production.
Still, OPEC and its partners are "fully committed" to curbing supply, Al-Falih said. He characterized any lags in compliance as par for the course: "Some are trying to iron out the process of controlling production, which they've never done before," he said. "I believe in the sincerity of their effort."
On top of a reduction in stockpiles, Al-Falih is looking for signs that the market is confident about the future before deciding whether to extend the supply deal. "We want to signal to them that we're going to do what it takes to bring the industry back to a healthy situation," he said.